YANGON, Myanmar – Twenty-three-year-old Ma Thae Ei Phyu is one of five "red angel" midwives who participated in a recent UNFPA-supported intensive training programme at a maternity ward on the outskirts of Yangon, Myanmar. The programme prepared the red angels – named for their red 'longyi' garments – to carry out life-saving work in camps for displaced people in the Sittwe and Myebon townships of Rakhine State.
Myanmar has an estimated 200 maternal deaths per 100,000 live births, well above the regional average of 160, according to UNFPA's State of the World Population report from 2013. And women in the displacement camps in Sittwe and Myebon are particularly vulnerable. They have poor access to routine health care, and often rely solely on mobile health workers like the red angels.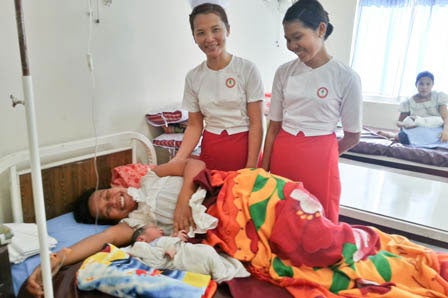 Midwives are undergoing training in a clinic in South Dagon, Yangon, before being deployed in Rakhine State. Photo credit: UNFPA/Benny Manser
Many of the midwives participating in the training had already been deployed to the camps, but were evacuated following the outbreak of communal unrest in late March.
They used their time in Yangon as an opportunity to sharpen their skills while awaiting redeployment.
Going where the needs are greatest
UNFPA spends about US$207,500 a year training midwives in Myanmar and deploying them in areas where the needs are greatest. These include hard-to-reach rural areas and the displacement camps in Rakhine and Kachin states, where health facilities and midwives are in short supply.
Ms. Ma Thae Ei Phyu has been deployed in Rakhine several times through the Myanmar Nurses and Midwife Association (MNMA). In 2012, she provided antenatal care to pregnant women in the displacement camps, providing check-ups and immunizations, and giving health and hygiene lessons.
She was deployed in Rakhine again in early 2014, but was evacuated because of the unrest.
With her recent training – which took place at an MNMA clinic in Yangon's South Dagon Township in early May – she will be even better equipped to serve displaced people in Rakhine.
The programme covered antenatal care, delivery assistance and post-natal services, as well as emergency obstetric care, voluntary family planning, post-abortion care and the prevention of the mother-to-child transmission of HIV.
"I have learned… what the potential risks are during the first, second and third stages of delivery," said Ms. Ma Thae Ei Phyu. "From the practical part of the training, I understand more, such as if there are complications during or after the birth, such as bleeding, so I can refer the mothers to the hospital."
The training also covered the minimum initial service package for reproductive health, a standard of care for providing reproductive health care in crisis situations.
"It was much safer"
But even in bustling Yangon, the red angels' services have proven essential.
Thirty-six-year-old Ma San Mu gave birth to a boy at the South Dagon clinic on 1 May.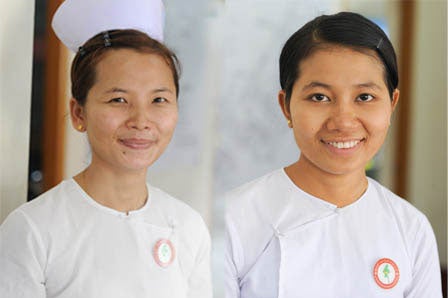 Mawi Zun Khim (left) is training five midwives, including Ma Thae Ei Phyu (right). Photo credit: UNFPA/Benny Manser
Her first two children were born at home, but for her last two deliveries, she chose to give birth in the maternity clinic.
"I felt it was much safer for me to deliver the baby in the clinic," she said. "My age also played a factor, in case there would be complications connected to the birth. My third child was also born right here in the clinic, and I was very happy with the service I received also this time around."
First-time mother Ma Moe Moe echoed these sentiments. She gave birth to a healthy boy on 30 April.
"It was safer for me to have the baby here in the clinic. Many still prefer to give birth at home. The midwife was very helpful and told me about what to expect during the birth, as well as how to take care of the baby," she said.
UNFPA has provided support for reproductive health commodities and equipment in seven states or regions of Myanmar. The organization has allocated $300,000 to help upgrade equipment and refurbish 10 maternity wards in Yangon, Magwe, Shan State and Ayeyarwady.
Additionally, UNFPA supported MNMA's deployment of 10 midwives in the underserved townships of Sittwe, Pauktaw and Myebon. They have provided services to about 4,700 people, both male and female. UNFPA also supports a static clinic in Rakhine and two mobile clinics managed by the Myanmar Medical Association.
– By Malene Arboe-Rasmussen and Benny Manser