WASHINGTON, D.C.-- In a joint initiative between UNFPA and the White Ribbon Alliance for Safe motherhood, stories from 60 communities and nearly 30 communities have been collected for Stories of Mothers Saved. The multimedia exhibit, which premiered at  the Women Deliver conference, presents stories of women from around the world who have survived childbirth under often harrowing conditions.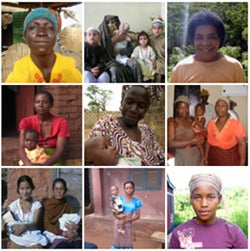 UNFPA Executive Director Thoraya A. Obaid delivered opening remarks at the launch of the exhibt. "The voices and stories of these women, their families and communities serve to hold leades accountable. Momentum is building, we are making progress, and togther we are united in our conviction that no women dies giving life," she said.   
Hearing from these women directly sends a powerful message about what needs to be done to save women's lives--whether it be more midwives, more health facilities or better access to family  planning.  Their faces are studies in endurance that their stories reveal more fully.
Collectively, the women profiled have suffered eclampsia, stillbirths, convulsions, haemmorrhage, obstructed labour, and HIV. Each story recounts the circumstances that allowed a mother to survive – because family or neighbors or health workers took urgent action or because transport, health facilities, emergency obstetric care and family planning were available.
Each of the women portrayed in Stories of Mothers Saved has journeyed through the perils of agonizing or anguished labour. The multimedia exhibit, which will be launched at the Women Deliver conference tonight, depicts strong women, alone or surrounded by children or families. Their faces are studies in endurance that their stories reveal more fully.
Each life saved has, in turn, affected other lives.
"If I didn't survive, my children would be orphans now," says Enyeneobong Emmanuel of Nigeria. "Their condition would be worse than worst. The community would weep and they would cry, and nobody could take care of the children. Maybe the children would have not survived."
These success stories remind us that progress is being made every day when maternal health is prioritized. A complementary exhibit, Stories of Mothers Lost, reminds us that much more work needs to be done. This collection of art panels, produced in conjunction with the 2007 Women Deliver conference, pays tribute to women lost in 20 countries. This exhibit has traveled around the world and serves to shine a global spotlight on the changes necessary to ensure every woman's right to a healthy and safe pregnancy and delivery.
As experts and advocates around the world have elevated maternal health to its proper place on the agenda of global leaders, Stories of Mothers Lost and Saved lend a human face to the issue and serve to hold leaders accountable.
Any individual or organization is welcome to participate and contribute to this global advocacy project. Blogposts from many participants have already been posted.
Information about the exhibit in French.