CONAKRY, Guinea – As the Ebola epidemic continues to ravage parts of West Africa, health officials are intensifying their efforts on the ground. Now included in their arsenal is a mobile phone application that promises to speed their response to the outbreak.
The app has been deployed in areas of Guinea with persistently high rates of Ebola transmission. There, it is being used to locate and track people who may have been exposed to the virus.
UNFPA is training community workers to use the app, which shares critical information with national and international health experts in real time.
Key measure to stop outbreak is known
West Africa's Ebola outbreak has taken an unprecedented toll. By the end of 2014, over 20,000 confirmed, suspected and probable cases had been reported, the overwhelming majority of them in Guinea, Liberia and Sierra Leone.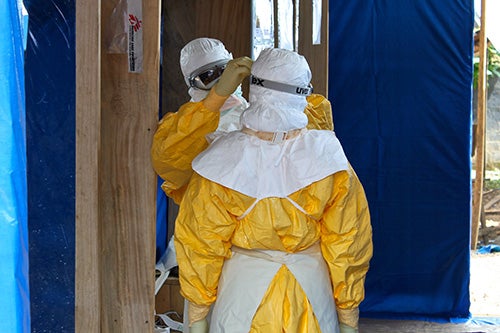 Health workers prepare to treat Ebola patients in a facility run by Médecins Sans Frontières in Guéckédou, Guinea. There have been over 2,700 cases of Ebola reported in Guinea. © UN Photo/Ari Gaitanis
More than 1,700 people in Guinea have so far died from Ebola, and the number of cases has remained stubbornly persistent in recent weeks. "There is no discernible upward or downward trend in the country," the World Health Organization's most recent report said.
Yet a key measure to stop the spread of the disease is well known: contact tracing.
An infected person can transmit the virus as soon as he or she develops symptoms, which can happen at any point within the disease's 21-day incubation period. Contact tracers are tasked with finding all the people who have been in contact with an Ebola-infected person, and then monitoring their health for the full incubation period.
If one of the "contacts" begins to display Ebola symptoms, he or she is reported to health officials. Rapid identification, isolation and care of Ebola patients can help curtail the epidemic.
Accelerating the process
But the traditional method of contact tracing has proved to be laborious.
During their daily visits with the contacts, tracers take notes on paper forms, which have to be collected and then sent to Guinea's National Coordination Unit, the Ministry of Health body addressing the epidemic.
By contrast, the newly deployed mobile app uses "CommCare" software that allows tracers to report their observations in real time, enabling a swifter response by local and national health officials. And in areas without formal addresses, the app allows contacts' locations to be geotagged, facilitating quicker follow-up by health workers. 
Fatoumata Diallo, a community health supervisor, at a training on how to use the app. © UNFPA Guinea
"Previously, contact tracing was done with data sheets," said Alpha Sow Midiaou, a contact tracer in Conakry's Sonfonia District. "We would go from house to house with writing material. Once the information was collected, we would give the sheets to the supervisors for typing and transferring to the [National] Coordination [Unit]. This process used to take two to three days."
Sometimes, he noted, they would run out of forms and have to scramble to find paper.
The new app eliminates these delays. "A phone with CommCare provides considerable time saving," Mr. Midiaou said. "I am currently tracing 18 contacts, and I could save them easily with the application."
The app also offers an intuitive way for younger contact tracers to communicate. "Using phones is more convenient for us as young people," Mr. Midiaou added.
Roll-out
The CommCare app is being deployed through a partnership between the Earth Institute at Columbia University, UNFPA and Guinea's National Coordination Unit. 
In mid-November, UNFPA began training contact tracers to use smartphones loaded with app. By late December, 158 tracers in the prefectures of Conakry, Coyah and Dubreka had been trained, and over 2,000 contacts had been registered with the app.
Over time, the app's ability to gather and instantly relay critical health information could play a role in restoring health systems that have been devastated by the epidemic, say health experts. The technology has been used to collect information on a range of health issues, including maternal and child mortality.
Officials plan to next deploy the app in Sierra Leone, which has had the highest number of Ebola cases of any country.
In addition to providing technical support, UNFPA is also monitoring the app's roll-out. Since the start of the Ebola outbreak, UNFPA has trained thousands of contact tracers in the three worst-affected countries. And on 30 December, UNFPA donated over $1 million worth of equipment to support the Government of Guinea's fight against Ebola, including kits for Ebola survivors and pregnant women, as well as motorcycles and bicycles to facilitate contact tracing.
– Mariama Siré Kaba