TASHKENT, Uzbekistan — Nestling against his mother's breast, the infant, barely two hours old, looked happy and contented. His mother, Ziyoda Karimova, was happy and contented as well.
"This is my third child," she said. "All three have been born here and the staff are great."
Mother and child were lying in a clean and well equipped birthing room at the Republican Centre for Obstetrics and Gynecology here in the capital. With its modern birthing methods and state-of-the-art equipment, this centre represents the very best of maternal health care in Uzbekistan. Under the care of a midwife, Khurshida Musaeva, and with her mother-in-law at her side, Ziyoda's birthing experience is worlds away from what her own mother and other women of that generation underwent.
With almost 30 years of experience at this hospital, Khurshida has witnessed the transformation that midwives have helped to usher in.
"Before the introduction of international standards of maternal care, babies used to be separated from their mothers as soon as they were born," she explained. "Then they would only be breastfed on a strict regime at three hour intervals." Khurshida's hope is that one day pregnancy will be treated as a normal phase of life, instead of as an illness, and that the kind of facilities available at her hospital will be available to all women in Uzbekistan.
While nearly all deliveries in Uzbekistan take place in maternity hospitals under the supervision of a skilled birth attendant, the level of care provided is inconsistent. Although two thirds of the Uzbek population is rural, the majority of obstetric complications and maternal deaths occur among rural women.
Decentralizing maternal health care
The Government is hoping to change that through health care reform, and midwives will play a critical role in bringing quality obstetric care to rural areas. About a decade ago, the Ministry of Health began setting up well equipped child delivery complexes in each district of the country. A system of regional hospitals providing a higher level of care was also established, which handles referrals for high-risk pregnancies.
A national policy for maternal and newborn health services has been developed, and a policy for the provision of free maternal and child health care services is in place, according to the State of World Midwifery 2011 report. Uzbekistan is one of 58 countries profiled in the report.
"In the 1990s we had a maternal mortality ratio of 65 per 100,000 live births. Now it is about 20 per 100,000 live births, and we are working for further improvements," said Dr. Asomiddin Kamilov, Deputy Minister of Health.
Midwives play a critical role
Some 24,000 midwives play a key role in delivering antenatal care and assisting physicians during delivery in Uzbekistan. However, the division of responsibilities and tasks between obstetricians and midwives during delivery is sometimes unclear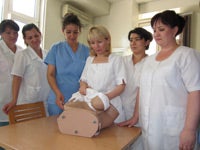 and presents a challenge in the work environment, according to the midwifery report. Problems, such as gaps in the training of midwives and lack of funding, persist. UNFPA is supporting Government by sharing good practices and providing international expertise on maternal health standards.
"I think the Government has made maternal health a major priority," said UNFPA Representative, Karl Kulessa. "The President has stressed that Millennium Development Goal Number 5, on maternal health, is a big priority in this country, and we're working very closely with the Government in realizing it."
But the Government admits the ongoing training of midwives presents a challenge. Securing adequate equipment and supplies to rural health facilities is also difficult.
At the Baykurgan Community Rural Health Clinic in Qibray District outside Tashkent, midwife Nabira Usmonova was conducting a clinic for some of the first-time mothers in her district. The facility was clean, but sparsely furnished with only minimal equipment.
"We received all of our equipment in the past few years," said Nabira. "But for a clinic this size, serving 8,000 people, it would be good to have additional equipment such as ultra-sound."
Midwife Nabira has worked in the same clinic for more than 30 years. The dedication and availability of midwives is a big reassurance for first-time mothers like Shokhista Nazarchaeva, who was lying on the couch being examined. "Yes, I am nervous," admitted the 22-year-old. "But the staff here put me at ease."
"My wish is for my son to be healthy," she added, with a smile. "And to grow up to become a doctor."