COTONOU, Benin – "I have seen more and more women with child-delivery problems suffer needlessly," said midwife Florence Djihoun, 48, at her UNFPA-supported clinic in Cotonou, Benin.
Globally, complications of pregnancy or childbirth kill a woman about every two minutes. The majority of these deaths are completely preventable – and the remedies are well known. It is estimated, for instance, that well-trained midwives could help avert two thirds of all maternal and newborn deaths.
On 5 May, UNFPA commemorates the International Day of the Midwife, calling attention to the need for more of these life-saving health professionals.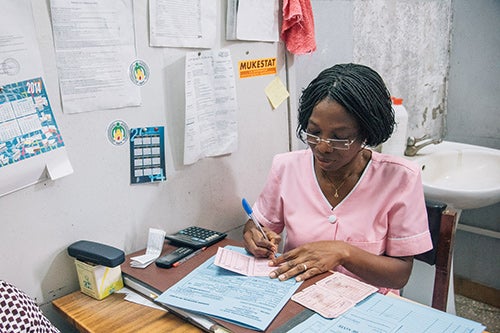 Midwife Florence Djihoun offers family planning counselling to a woman in Cotonou. The woman, who is 25 years old with two children, says she and her husband are currently unemployed, so they want to wait before having more children. With Ms. Djihoun's help, she has selected a contraceptive option that works best for her. © UNFPA/Ollivier Girard
"Evidence shows that midwives who are educated and regulated to international standards can provide 87 per cent of the essential care needed by women and their newborns," UNFPA Executive Director Dr. Babatunde Osotimehin said in a statement marking the day.
Enormous impact
Maternal mortality remains a critical problem in Benin. The lifetime risk that a woman will die from causes related to pregnancy or childbirth is one in 59, according to the most recent figures. Yet Benin has only about 940 midwives to attend to more than half a million births per year, the 2014 State of the World's Midwifery report says.
Despite their small numbers, midwives in Benin are having an enormous impact. In her 26 years as a midwife, Ms. Djihoun has helped thousands of women, she estimates.
She provides much more than safe delivery services. She also offers antenatal care, post-natal check-ups and newborn care, and she helps women access voluntary family planning, which allows women to space their births and improve their health.
"We have a lot of maternal deaths because of too-close pregnancies. So I thought I should dedicate myself to helping them," Ms. Djihoun said.
Better care
Midwifery care and emergency obstetric services are saving many lives at the Aplahoue Zonal Hospital, some 150 km west of Cotonou, said Mastoratou Akanbi, a nurse and midwife at the hospital.
UNFPA supports midwifery training at the Aplahoue hospital, and also supplies contraceptives and other life-saving commodities through its Global Programme on Reproductive Health Commodity Security. Improved services – including an operating theatre for emergency Caesarean sections – are reducing maternal mortality and improving rates of institutional delivery.
The hospital now delivers about 110 babies every month, much better than before, Ms. Akanbi said.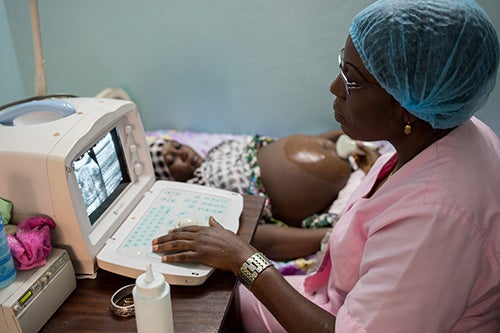 Midwife Leocadie Kotchoga performs a sonogram on a 31-year-old pregnant woman at the Cooperative Clinic of Sikecoudji, in Cotonou. © UNFPA/Ollivier Girard
Counselling, commitment
Counselling is an important part of the job, Ms. Akanbi emphasized. She offers health counselling to women, and sometimes to men as well.
Her patients learn the importance of antenatal care, proper nutrition, and delivering under the care of a skilled birth attendant such as a midwife. They also learn the health benefits of family planning.
"We tell the women to rest after giving birth and to do family planning, to space their children, and vaccinate them. We encourage their husbands, too, to space their children," Ms. Akanbi said.
Just as important, said Leocadie Kotchoga, is a midwife's commitment. She has been a midwife for 23 years, and is now working at a UNFPA-supported clinic in Cotonou.
She says relatives pressure her to quit her job in favour of higher-paid positions elsewhere. She turns them down every time, saying, "This is what I want to do."
She is not driven by money but by love for her work. "If not, I won't be doing it," she said. "What is worth doing is worth doing well." 
– Paul Okolo