BANDA ACEH, Indonesia—The people of Aceh are eager to get their lives back.
Half a million were left homeless and destitute by the earthquake and tsunami that levelled the north-west coastline of Sumatra six months ago, killing more than 200,000. The shocked survivors living in camps and barracks face a long period of uncertainty, despite the unprecedented support for relief and recovery efforts.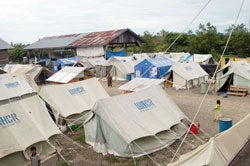 One of the many international organizations working for their future is UNFPA, the United Nations Population Fund, which puts special emphasis on assisting affected women—ensuring their reproductive health and basic hygiene, providing psychosocial support and skills training, and promoting gender equality and freedom from violence.
This special report includes 8 short features on UNFPA's areas of work:
UNFPA is also supporting a census that will facilitate Aceh's reconstruction, now under way, by providing essential data on the needs of communities affected by the disaster.
The Fund is providing similar assistance on a large scale in Sri Lanka and Maldives, and on a smaller scale in Thailand and India. It has mobilized $26 million from international donors for this effort.
In Aceh, it is helping women like Sarawati and Siti Maria Ulfa, who were pregnant when the deadly waters struck their villages. One gave birth soon after, without professional assistance in tent camp; the other will deliver before long, also in her tent, but attended by a doctor with ample medical supplies and a backup referral system. Many others will be helped by action to restore and resupply badly damaged reproductive health facilities and to train new doctors and midwives.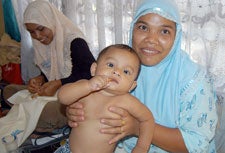 It is helping women like Maria Sumi and Fajriati, who each somehow saved herself and her infant child. Each now lives in an austere barracks where UNFPA provides hygiene kits and supports skills training programmes.
And it is helping women like Wardani, who couldn't rescue her baby, by providing a support centre and a counsellor to help her deal with her grief. Eight centres have opened in the past month, and dozens of psychosocial counsellors have been trained,
A large area of Banda Aceh city was razed by the tsunami. Now, with much of the rubble cleared, its vast emptiness reveals the horrible dimensions of the December tragedy. Similar scenes of total devastation mar the coastline south of here where towns and villages once stood.
But just beyond the waters' reach, a vibrant Asian city has returned to life. Cars, trucks and motorcycles clog streets that were quickly cleaned of mud and debris as part of the phenomenal response to the crisis that also included rapid action to shelter, feed and provide emergency medical assistance to tens of thousands, preventing epidemics or starvation.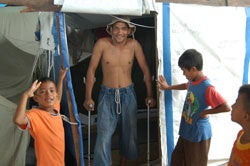 Dotted throughout the city and inland towns are hundreds of settlements of the displaced, varying in size and permanency. Foreign military personnel have gone, but dozens of agencies and NGOs remain. They continue to assist local authorities in providing essential services for the displaced people's camps and the larger communities hosting them. UNFPA's prompt shipments of reproductive health supplies and hygiene kits has helped many of these groups respond to women's needs, including during pregnancy and in childbirth.
Efforts to implement the massive, longer-term rehabilitation and reconstruction plans have moved more slowly, complicated by insecurity—despite a shaky ceasefire between the Indonesian military and insurgents—and by the havoc the disaster wreaked on local administrations.
Now a newly created authority has begun to streamline procedures, and projects to construct housing and infrastructure are moving forward. But with so many displaced, it will be a long time before most people have homes and restored livelihoods to return to.
This context shapes the assistance priorities of UNFPA, which has a mandate to promote reproductive health—including family planning, safe motherhood and prevention of sexually transmitted infections—and women's rights, and to help governments use population data for development planning.
Thus, the Fund has deployed staff to Banda Aceh and Meulaboh, and is helping to rebuild the capacity of the provincial and district health offices (which have primary responsibility in a decentralized national system), the midwives' association and the family planning board to provide reproductive health services. It is providing contraceptives and delivery kits, and upgrading facilities.
Working in partnership with the Indonesian Psychologists Association and community NGOs, UNFPA has trained psychosocial counsellors who do outreach work among traumatized survivors.
With partners including the provincial office of women's empowerment, it is promoting gender equality through skills training for women, as well as advocacy efforts to prevent sexual violence and exploitation in camps. UNFPA is also using TV and radio spots and a newspaper column to promote good health practices in the entire Aceh community, especially among youth.
These activities are planned to continue at least to the end of the year. "UNFPA's assistance over the last six months has been very appreciated by the affected populations," notes Dr. Bernard Coquelin, UNFPA Representative in Indonesia.
"UNFPA will continue responding to the needs of women, girls and youth in order to help them get back to normal life."

-William A. Ryan