KINGSTON, Jamaica – In an appeal to the region's leaders, media and parents, UNFPA Goodwill Ambassador, Wendy Fitzwilliam, has suggested that responsible behaviour should be marketed creatively to protect Caribbean youth, especially girls, from the scourge of HIV/AIDS. Creative communications would also counter the ongoing marketing of sex to sell goods and services, she added.
Ms. Fitzwilliam, a lawyer and Miss Universe 1998, made the suggestion at UNFPA's 2003 Caribbean Media Awards, held in Kingston in November.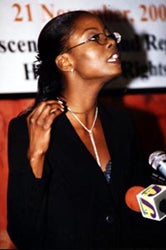 The Goodwill Ambassador called for a campaign against ignorance and stigma related to HIV/AIDS. Consistent action, she said, is necessary to stop the spread of HIV/AIDS, curb early initiation of sexual activity, foster behaviour change, prevent unwanted pregnancies, promote gender equality and end sexual exploitation.
"These are all issues that we know are rife in our region and they are all issues that we would rather dodge than face head on," said Ms. Fitzwilliam. "We cannot allow our young people to die through ignorance. Ignorance will not save lives…sex education and facing facts will."
"We talk to young people directly in ways that their parents may be too embarrassed to do," she said. "We also need to address their parents, the teachers, the religious leaders and others … to nudge them towards taking the role that they should have – saving kids' lives. Better a few blushes than lots of early graves."
HIV/AIDS, she said, must not be allowed to derail efforts at poverty reduction and sustainable development in the Caribbean, as the sub-region, including Haiti and the Dominican Republic, has the world's second-highest prevalence rate.
Some of the day's media awards went to two top Caribbean newspapers, The Jamaica Gleaner and The Express of Trinidad and Tobago, for corporate leadership in covering adolescent reproductive health issues, such as curbing HIV, preventing early initiation of sexual activity, fostering behaviour change and promoting gender equality. The newspapers received platinum and gold awards, respectively, at UNFPA's 2003 Caribbean Media Awards.
In the television category, St. Lucia-based producer, Ernest "Ché" Rodriguez, won the platinum award for his docudrama, "JOU MALE", which addresses "sugar-daddy" relationships between girls and older, richer men. The gold medal went to Television Jamaica's Carol Francis, producer of 'Prime Time Kids News'. Hosted by the very young, the programme dealt with discrimination against HIV-positive children at school, focusing on the myths they face.
In the radio category, the top honour went to Guyana's Denis Chabrol, a contributor to the BBC's Caribbean Service, for an entry on HIV/AIDS among sex workers in Guyana. The second prize went to Patricia Clarke, a news presenter on Jamaica's IRIE FM, for her report on the need to tackle AIDS-linked stigma.