SHUNDE, China — The fast-growing cities of Guangdong Province are a magnet for migrants seeking a piece of the coastal region's unprecedented economic boom. Many of the newcomers aspire to start businesses, and quite a few succeed. 
Yuan Qixin, 34, came in 1997. He had worked in a factory in Hunan, but in Shunde he found a job that paid twice as much. His wife He Huae, 32, went to work in the same plant making parts for air conditioners. In six years they had saved enough to buy an apartment, enabling them to qualify for a hukou, or residence permit.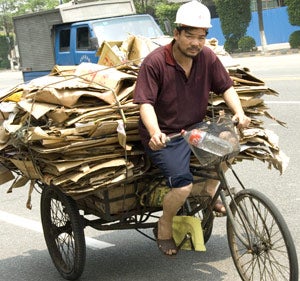 Thinking about their son's future, He Huae believes the family can do even better. She is learning accounting on her home computer, and saving for the day they can start their own company.
That day has already come for Luo Changkun and husband Qiu Shiyong from Jiangxi. After working for a few years in a computerized machine shop, they borrowed enough from relatives to buy four small machines of their own.
But the entrepreneurial couple still live in a small rental apartment and lack a hukou. Without one, their son will not be eligible for a subsidized university education.
Shunde, in a river region once renowned for its silk and cuisine, is today a vast expanse of high-rise apartments and high-tech factories producing machinery, appliances, furniture and shoes.
Good planning pays off
Daliang, a small city in the 1980s, has merged with nine other towns into a single metropolis built on what was largely farmland a generation ago, before private enterprise was allowed to thrive. The district's construction of new roads, its proximity to Guangzhou and Hong Kong, and investments from abroad facilitated a rapid industrial expansion in the 1990s.
Growth accelerated in the past four years as restrictions on migration were eased. Today over 40 per cent of the 2 million inhabitants lack hukou and are classified as 'floating population'.
Shunde is far more prosperous than most cities in developing countries worldwide – it may be China's richest district, per capita – and its ambitious migrants reflect that. There are few signs here of the urban poor, whose future is a key focus of The State of World Population 2007: Unleashing the Potential for Urban Growth.
But the city's rapid growth exemplifies the transformation unfolding in a global population that is now 50 per cent urban. By 2030, cities in Asia and Africa will have twice as many inhabitants as they had in 2000. And Shunde's recent experience confirms a key message of the report by UNFPA, the United Nations Population Fund: good planning and investing in infrastructure pay off.
China's changing urban landscape
Each year between 2001-2005, 1.5 per cent of China's population moved from rural areas to cities (around 19 million people per year). In 2005, out of a total population of 1.3 billion, there were 390 million registered urban residents and another 170 million 'floating' migrants. A majority of the country's population will be urban within the next decade.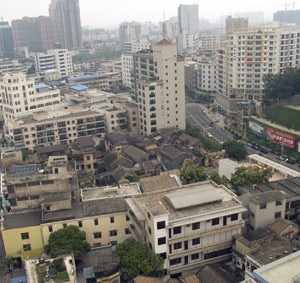 China's urban expansion, unlike that in most countries, largely results from migration rather than natural increase. This is partly because the number of urban migrants has increased dramatically since the country relaxed stringent policies to restrict them and partly because of the country's comparatively low population growth rate (0.6 per cent).
Meeting the health, education and housing needs of the new residents is a growing challenge for local governments.
"Incorporating rural migrants into the urban system will be a long-term process," says He Yuping, Deputy Director-General of China Centre for Town Reform and Development, National Development and Reform Commission.
The Government's current 5-year plan aims to provide 9 million jobs for migrant workers per year, along with job training. In contrast to previous urban plans emphasizing infrastructure, there is a new emphasis on service delivery including pension coverage and medical care. There is supposed to be an integrated urban and rural social security system by 2020, but how this is to be created is not specified.
Plans also call for a mix of market policies and subsidies to enable migrants to settle in cities, allowing middle-income families to buy affordable houses and providing cheap rentals for low-income families. But the challenge of reforming the hukou system to allow migrants permanent urban residence is complex and controversial.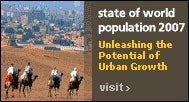 Shunde, community centres offer registered migrants services ranging from job and housing information to family planning. Outreach workers also visit migrants' homes after factory work hours.
Xu Kunhua, 28, comes to the Happiness Community Centre once a year to renew her temporary residence permit at the public security office. She migrated from rural Guangxi 10 years ago while still a teenager. Finding work was hard at first, Xu says, but she eventually got a job in a clothing factory. Today she and husband peddle small hardware items. She doesn't think about returning to Guangxi, but home ownership and permanent residence are beyond her reach.
Policy makers must act now to ensure that the growing ranks of city dwellers, including poor migrants, will have adequate housing, services and employment opportunities in the future, The State of World Population 2007 argues. In addition, as the report points out, urbanization policies must also assist rural people displaced when cities expand.
Working hard and prospering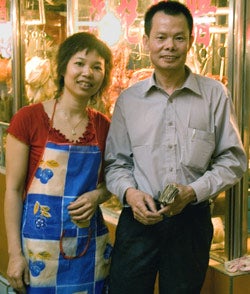 Former farmers He Aijin, 40, and husband Liang Tianning, 47, are sharing in Shunde's wealth. A few years after their land was taken over for urban development, they managed to establish a profitable business selling roast goose in a busy market. Together, they earn about $900 a month and live with their two sons in a 4-storey house. They have four employees, all migrants, who are each paid about $200 per month.
"Several families from our former village have their own businesses," He Aijin notes. "Some are cooperating with others to manage a bigger business. And some people are even playing the stock market."
In Shunde, the optimism is infectious, even among those of modest means. Hope shines in the eyes of Zhao Zhihua, an 18-year-old waitress at the Feng Cheng Hotel in downtown Daliang. Her family came from Hunan in 2005 and lives in a small rented room. Her father sells eggs. Zhao gets just three days off a month and makes only $130, which she gives to her parents. But she loves living in the city.
"The first time I came here I was so shocked by all the tall buildings. It was so beautiful. Everyone was very nice to me. And there is such an impressive variety of food here. It's so much better than in my hometown.
"When I see all this new construction, I think the city will become more and more prosperous," Zhao adds.
Shunde's prosperity is exceptional and undeniable. But as in other growing cities in China and throughout the developing world, as UNFPA's flagship report stresses, a bright future will depend on actions taken now to make sure that urbanization's benefits are widely shared. 
— William A. Ryan