EL-FASHER, Sudan — Although she has lived through the chaos of conflict, suffered the loss of a child, endured the rejection of family and community, and dealt with her own disability and her husband's blindness, Mecca considers herself blessed. Now her obstetric fistula has been repaired, and she still has husband, Omar, and her son, beside her.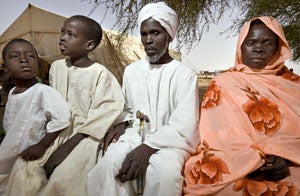 Mecca's ordeal began during her second delivery, when she was 24. Following three agonizing days of obstructed labour that a traditional birth attendant could not relieve, Mecca was finally sent to the Zalingei Teaching Hospital, 50 kilometres from her home in West Darfur, to receive medical assistance.
She pulled through, but her baby did not. And as a result of injuries sustained during the labour, Mecca began leaking urine. "It was horrible," she recalls. "I did not know what was happening to me."
Nor did the others in her small village, "They did not want me around because I smelled, and they would not eat from my cooking," says Mecca. "Life was unbearable."
Omar, meanwhile, was under pressure from his family and in-laws to divorce his injured wife. He says they told him, "This disease is from God, you cannot do anything about it, you have to let go of her."
He refused. He decided instead to leave the village and bring his wife and son to the Saudi Hospital in El Fasher, North Darfur, where fistulas are repaired by trained specialists.
Mecca, Omar and their son rode a donkey cart 156 kilometres to the hospital in El Fasher during the rainy season. What might have been a two-hour drive from their village turned into a three-day journey fraught with mud and danger because of bad weather and ongoing conflict in the region. Along the way, armed men targeted the family and stole their belongings. "They took everything we had, except for money Mecca tied to her body and hid under her dress," says Omar.
Nearly a year later, sitting on a cot in the dusty backyard of the hospital, Omar and his family are celebrating Mecca's successful recovery . While cooking their modest lunch over her makeshift charcoal grill, the smiling Mecca mumbles, "I am blessed because my husband and son did not leave me and stayed all this time with me."
Omar echoes her contentment: "I've had a good life with her, and I need her so together we can raise our son."
For Omar, the long year is almost over. He and the family are preparing to return home. "She is well now," he said, and their families in the village have sheepishly agreed that she can return, "if she is okay."
It is common in some parts of Sudan, especially in Darfur, for men to desert or divorce their wives if they become incontinent, a trend acknowledged by Dr. Abbo Hassan Abbo, Sudan's leading fistula surgeon and founder of the Dr. Abbo Fistula Centre in Khartoum, a world-class facility, which is supported by UNFPA, the United Nations Population Fund.
However, some men are choosing to defy tradition by staying at the side of their wives for months and years at a time, while the women wait to receive the needed treatment. This was vividly expressed by Rashid, a patient's husband at the Abbo Centre. "I chose to come with my wife because she is my life partner. We have been married for twenty years, and I will not leave her even if the operation fails."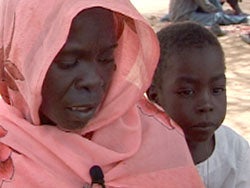 However men like Omar and Rashid, who have preserved their family unity in spite of the all the physical, social and emotional challenges associated with fistula, still represent a small minority in Sudan.
Every year an estimated 5000 new cases of fistula occur in Sudan. It is especially prevalent in the Darfur region. With the current resources and capacities of the four fistula centres in the country, all supported by UNFPA—the Dr. Abbo Fistula Centre in Khartoum, the Saudi Hospital in El Fasher, the Zalingei Fistula Centre in West Darfur, and Juba Hospital in South Sudan—more than 600 fistula repair operations are being conducted per year, with success rates as high as 85 per cent among simple cases. Since 2001, renowned international surgeons have dedicated one month of volunteer time each year to come to Sudan and operate on complex cases.
But that is not enough to reduce the backlog of cases. The only way to end the suffering associated with fistula, experts agree, is to prevent it from occurring in the first place. This will require several steps, says Dr. Abbo. "First, provide comprehensive medical services and qualified midwives in rural areas. Second, pave roads for fast access to hospitals when complications occur. And third, ensure the training of hospital doctors in emergency obstetric care."
Spreading greater awareness of the causes and cure for fistula can reinforce prevention efforts, reduce social stigma and help alleviate the psychological suffering of women. Fistula awareness campaigns are being organized annually by Federal and State Ministries of Health, with the support of UNFPA and other international non-governmental organizations. These targeted campaigns concentrate on community mobilization and sensitization, and include skills-building, counselling and reintegration components as well. This year's campaign focuses on men's involvement in supporting women with fistula.  
— Henrietta Aswad