Cabaret, Haiti—When Anna went to sleep one Saturday night just before Hurricane Ike hit, she did not imagine that a few hours later her home would be gone. As the powerful storm churned across her hometown, Cabaret, just north of the Haitian capital, the normally quiet Bethel River turned into a flood of raging water.
Her recently rented two-bedroom house and all of her modest possessions were washed away by the fury of the river. Thanks to the swift action of two neighbours, she and the ten children she cares for are still alive.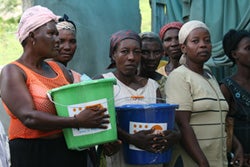 Eight months pregnant and suffering from hypertension, Anna is due to give birth to her sixth child soon. She is one among many women in dire need of emergency obstetric care following a natural disaster of this magnitude.
An estimated 24,000 pregnant women are affected by the disaster in Haiti. The special health care needs of pregnant women are often forgotten or left out during the initial phase of a relief operation. UNFPA, the United Nations Population Fund is seeking $1.15 million for emergency obstetric care, medical supplies and skilled medical professionals.
After the flood swept her house and possessions away, Anna sought refuge in one of the 15 temporary shelters in Cabaret. She huddled there recently with the ten children in her care and 125 neighbours who have suffered similar hardships.
Addressing needs that are often overlooked
Those who lost their homes received 'dignity kits' containing a variety of toiletry articles provided by UNFPA and distributed by the Ministry of Women's Affairs. "We didn't have any soap, nor any sanitary napkins," said one young woman.The majority of people living in the shelter are women still in shock, yet they express gratitude for not being among those who lost their lives in the storm.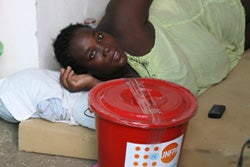 Cabaret is among the areas hardest hit by the hurricanes in Haiti this season. UNFPA, in partnership with the UN System and the Haitian authorities, has been offering support especially tailored to the needs of women and families affected by the disasters. Dignity kits have been distributed in Gonaives, in Haiti's Central Plateau, as well as in the south.
In order to ensure privacy for women, UNFPA has installed portable toilets in Cite Soleil (an extremely poor neighbourhood of Port-au-Prince), Gonaives and Cabaret. Birthing kits are being distributed in Saint-Marc and Gonaives and a pool of 14 health professionals, including anesthesiologists, obstetrician-gynecologists, nurses and mid-wives, is being mobilized to serve the needs of pregnant women and others with medical needs. UNFPA is also working with UNIFEM and UNICEF in registering and following up cases of gender-based violence. Experience shows that violence against women often escalates in the aftermath of natural disasters.
In relief and recovery situations, UNFPA works to ensure that health needs of women and families are met. The organization seeks to move quickly beyond the acute crisis and engage in meeting the longer term recovery needs. However, this year's hurricane season is still active and storms often have a disproportionate impact in vulnerable communities such as those in Haiti.
—by Weaver Destin