Barriers to improving maternal and child health among ethnic minorities boil down to beliefs and practices that do not fit neatly into modern practices and services. The disconnect between age-old rituals and use of current medicine is often wide, so understanding traditions can be helpful in addressing health-care challenges.
Four new studies, commissioned by UNFPA, detail how women in certain ethnic communities give birth and care for their babies, how pregnancy is treated and how illnesses are remedied in Lao People's Democratic Republic, China and Viet Nam. One study also focuses on female genital mutilation/cutting in Somalia. The studies were published by the respective UNFPA country offices, where they are also available.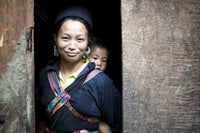 Common themes in the studies include: mothers breast-feed for up to a year; herbal treatments are used to cure sickness and help relieve pain during childbirth; certain foods are restricted during pregnancy; and women often feel uncomfortable going to health-care clinics. Lack of access to information and little education represented the biggest hurdles in promoting reproductive health, while other problems entailed health facilities themselves, like shortages of equipment, drugs and staff.
The report overview recommends, among other steps, improvements in staffing and training at local clinics, cutting costs of services, more reliance on ways of leveraging international aid and providing more female and ethnic doctors.
Cultural Beliefs and Traditional Rituals About Childbirth Practices in Lao PDR, done by the Ministry of Health, found that most women who give birth attend prenatal care programmes at public hospitals. Yet, the country has one of the highest rates of maternal death in the world. Most pregnant women cut back on work if it involves hard labour, and families tend to cooperate to ensure a mother's safe delivery at home, with trained birth assistants, husbands, mothers or other relatives pitching in, using herbs and "magic water" to relieve pain during labour.
Reproductive Health of H'mong People in Ha Giang Province: Medical Anthropology Perspective was researched in 2007 by a medical anthropologist in a Viet Nam region where the H'mong live in a rocky area and grow maize. The health systems there offer few drugs, equipment and human resources.
The H'mong are deeply tied to Confucian and Taoist beliefs, and they rely on spirits, sorcery and magic in their daily lives. Women are expected to take on heavy burdens, but they are denied reproductive health rights. People marry young, with boys commonly wedded at 16 and girls at 14, and men have many wives. Women expect to give birth to four to five children to help with work and income and for community respect. Women face tremendous pressure to bear sons.
Women's lack of knowledge on reproductive health is aggravated by poor communications (little electricity is available) and transportation. When women do opt for contraceptives, they often choose the intrauterine device.
The Study on Traditional Beliefs and Practices Regarding Maternal and Child Health in Yunnan, Guizhou, Qinghai and Tibet is part of a project to develop innovations in health care and services among ethnic minorities in parts of China, led by the Ministry of Health and UNICEF. The study was done by Minzu University of China in 2010 with support from UNFPA and others.
Religious and spiritual beliefs have a big influence on attitudes towards health among the ethnic people in these regions, but they do not prevent the groups from using maternal services. The people consult both spiritual leaders and government facilities for information on care. Collaborations between traditional and religious leaders and health ministry clinicians could improve outcomes for everyone. Nevertheless, some ritualized practices can be harmful and costs of services constrain such arrangements.
Delinking Female Genital Mutilation/Cutting From Islam focuses on the rite in Somalia, where, like elsewhere in sub-Saharan Africa and parts of the Middle East, it is performed on young girls to maintain their virginity before marriage, among other reasons. It is also done ostensibly to adhere to Islamic law.
But the study found that there is no direct link between the rite and Islam and that contradictions abound in Islamic teachings regarding the practice. It is a deeply rooted tradition, however, reinforced by cultural institutions, and in Somalia its justification is mistakenly considered an Islamic requirement. Religious leaders are best placed to separate FGM/C from Islam, the report recommends, and to educate their communities about its harms.