DADAAB, Kenya — Braving the scorching sun and feet-baking sandy soil, with a torn schoolbag hanging precariously on her back, Halima, a 16-year-old Somali girl, walks to school in the camp where her family has sought refuge. Halima appreciates the opportunity, as she knows that without a good education, her opportunities in life are limited.
As I follow along with Halima on the winding narrow paths lined with prickly thorns, she tells me her story, at times stretching her arms to pluck a leaf from a plant nearby. We stop every few steps as she adjusts the schoolbag on her back.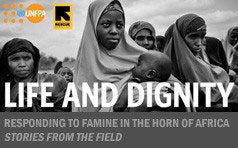 "I love and enjoy going to school to get an education," Halima says. "Our parents brought me and my siblings to Dadaab after they feared we would be killed in Somalia due to the conflict there. I know one day when I finish school, I will make life better for myself and my parents."
Halima, her five siblings and her family arrived in the Dadaab camp in Kenya to escape the conflict that has gripped her country for two decades. With many girls raped by violent militias, the world's largest refugee complex can be the safest place to call home.
Despite enduring many hardships in her passion to get an education and to have the bright future she talks about, Halima says she is sad that she has missed many school days every month during her menstrual cycle.
Knowing that her mother, now a widow, struggles to provide food and has nothing left to buy sanitary pads, Halima must make do with missing school to avoid being ashamed if she goes.
"I fear people seeing me during that time, and when it comes, I just stay at home as other people learn," she says. "There is nothing I can do because my mother cannot afford it. I wish she could, but I know she has to give us food."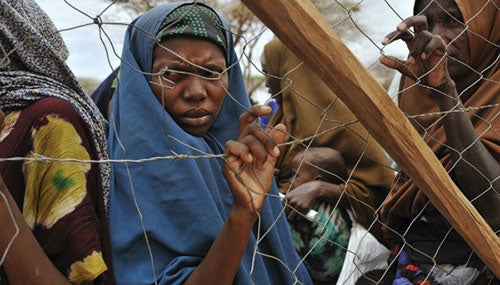 Somali refugees await a nutrition check at a health post in Dadaab camp after fleeing a prolonged drought in Somalia,
Photo: Lynsey Addario
The Dadaab complex is home to nearly 500,000 people and has been fittingly described as the world's fastest-growing metropolis. Made up of three refugee camps, dotted with tents and makeshift structures, Dadaab covers 50 square kilometers (about 19 square miles) and is considered the largest such camp in the world. Despite its size, Dadaab has only one secondary school, and not many children are lucky to get a chance to go.
"Getting an education here in Dadaab is very difficult, and it is sad when a young girl who is passionate can at times miss that because of a sanitary towel," says Aisha Mohamed, a volunteer community worker with one of the many aid organizations working in Dadaab.
It is estimated that only 48 per cent of children are enrolled in the few overcrowded classrooms in Dadaab, where 60 per cent of the population is young people.
The Kenyan government recently approved $4 million to provide free sanitary towels to girls in school to stem their absenteeism, but girls like Halima are unsure if they will benefit from the largesse.
In his visit to Dadaab in August 2011,UNFPA's Executive Director, Dr. Babatunde Osotimehin, promised that with the organization's partners, it would prioritize issues affecting young people. The organization has also given dignity kits to its partners in Dadaab to be distributed to women and girls. These kits include hygienic items such as soap, underwear and sanitary pads. Such gestures can give young girls like Halima the hope they need to soldier on with their school pursuits. -- KENNETH ODIWUOR