KANO, Nigeria— Fatima was 14-years-old when she married. Soon after, she fell pregnant.
"I was in labour for six days," said Fatima, who eventually gave birth to a stillborn baby. "For six days I did not pass stool or urine. When the urine finally came, it came nonstop. That's when I knew I had a problem."
Fatima was a survivor of obstetric fistula. Caused by prolonged and obstructed labour, a fistula is a hole that forms between a woman's vagina and bladder and/or rectum, leaving her with chronic incontinence. In most cases, the baby dies. Fatima herself has suffered two stillbirths and two miscarriages.
Women with fistula are unable to stay dry. The smell of urine or faeces is constant and humiliating. The social consequences are equally tragic: many girls and women with fistula become ostracized by society, abandoned by their husbands and blamed for their condition.
Fistula typically affects the most marginalized members of society—poor, illiterate girls and young women living in remote areas. Causes include early childbearing, malnutrition and lack of access to emergency obstetric care. Fistula affects more than 2 million girls and women worldwide, with an estimated 50,000 to 100,000 new cases annually.
For almost ten years, Fatima suffered chronic incontinence. "The urine flowed heavily. When I had the urine, it was only by my own family that I was accepted. The whole community rejected me," said Fatima, who looks away with downcast eyes as she recounts the story of her suffering. "I didn't go out at all. Anywhere I went, they laughed at me."
Then, last March, she had an operation at the fistula repair centre in Kano after a neighbour who had heard of the hospital told her about it.
"After the operation, I stayed with my parents for six months. When I was checked at the hospital, I went back to my husband and within one month I became pregnant," said Fatima whose smile transforms her face. "Now since the urine has stopped, I am being invited by friends and neighbours to weddings and naming ceremonies."
Women like Fatima do not need to suffer needlessly for years on end. In uncomplicated cases, surgery can easily mend the damage. Success rates can be as high as 90 per cent.
From 21 February to 6 March, UNFPA, the United Nations Population Fund, is joining forces with the Nigerian Government, national and international doctors, NGOs and the private sector to sponsor the "Fistula Fortnight," an effort to raise awareness of the condition, treat hundreds of fistula patients in the country, and train medical personnel in fistula treatment and social workers in counselling and care.
For the past 20 years, Dutch surgeon Kees Waaldijk has worked with the Nigerian Government to end fistula. Waaldijk has surgically repaired around 13,000 women, and through the training and treatment programme he runs, 10,000 more have been repaired. He operates on six to eight women per day, seven days a week for three months at a time. He agreed to participate in the Fortnight to advocate globally for fistula prevention and treatment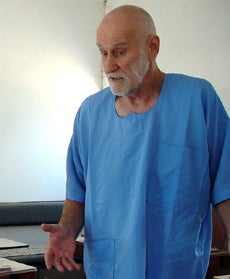 "I was looking for something in my life. I was very restless and here is where I found my destiny. I'm intrigued and obsessed by fistula. My best decision in life was to come to Nigeria," said Waaldijk. Dr. Waaldijk has helped establish 10 centres specializing in the repair of fistula – seven in Nigeria and three in Niger. Each centre serves patients up to 80-100 kilometres from the site.
"You have to give accessibility to your patients," Waaldijk said. "Each and every state needs to have its own centre. That's what we're trying to achieve, but it takes a long time."
UNFPA is working with surgeons like Dr. Waaldijk to train doctors and nurses in repair procedures as well as providing surgical and delivery equipment to hospitals and logistical support to help end fistula, said Samaila Bala Baba, a programme adviser for the agency in Katsina state.
A 15-year-old girl from Dutsan in Kano State is one of Dr. Waaldijk's first patients of the day. She had been married for one year when she went into labour. After two days protracted labour she gave birth to a stillborn baby girl. Despite having a Caesarean section, the damage was already done resulting in fistula.
"I was disturbed because I was leaking, and I was embarrassed, but there was nothing I could do," she said. After 42 days, her doctor referred her to the fistula centre in Kano where she was repaired in a 20-minute operation by Dr. Waaldijk.
Health care worker Kaltume Garba has been working at the Kano Hospital for the last 26 of her 80 years. She says that she loves her work with fistula patients, talking to them when they arrive, supporting them through the surgery and recovery and giving them health care advice to protect themselves against future fistulas.
"I advise them that as soon as the go into labour they should go to the hospital to deliver," said Ms. Garba, as she rolled cotton balls for the operations. "It's too risky for them to have the baby at home. The baby could die, and they could risk having the leaking again."
The operating room is simple, just a long narrow table where the assisting nurse hands the doctor instruments. Patients are placed near the window so that the natural light can illuminate the doctor's efforts in a hospital where electricity cannot always be depended upon. Waaldijk keeps meticulous records of each case, including digital photos of the injuries before, during and after repair to help train other doctors in the procedure.
In areas with high maternal mortality, fistula may occur at a rate of two to three cases per 1,000 pregnancies. About 15 per cent of all pregnancies will result in complications that require emergency medical intervention. But only 58 per cent of women in developing countries deliver with the assistance of a midwife or doctor. Only 40 per cent give birth in a hospital or health centre.
Dr. Said Ahmad has been performing fistula surgery for the last 12 years in Kano. "I realized that this problem was affecting our poor women. At the time we started, no one was taking care of them. I felt it was a challenge for me to see how I could help these poor women," he said.
Dr. Ahmad and the rest of the medical team made up of other Nigerian doctors and an international volunteer doctor from the United States screened 87 women on Sunday before the Fistula Fortnight started. Eighteen were slated to be operated on the next day.
The Fistula Fortnight is part of "UNFPA's global Campaign to End Fistula, launched in 2003 and now under way in more than 30 countries in Africa, South Asia and the Arab States.
"It's time that the world does something on a large scale," said Dr. Waaldijk. "With UNFPA's involvement, more and more people will become mobilized. It is important to open the world's eyes to the problem to make an impact."
--Angela Walker