GOIANA, Brazil – "I heard at school that Zika is sexually transmitted, and my mother has also mentioned it," Maria Eduarda told her friends, Barbara and Jocielly, all 14, after they had exited a reproductive health seminar.
The seminar covered not only how to prevent Zika, but also how to prevent other sexually transmitted infections and unintended pregnancy.
It aimed to "give teens and young women a voice, and bring together health, education and social assistance professionals in Goiana," said Sueli Valongueiro, a member of the Curumin Group, a women's organization that arranged the event.
Inequality, marginalization
Zika is not just a health issue; it is also as a social justice issue, organizers of the event emphasized. The outbreak has disproportionately affected women and girls from marginalized communities like Goiana.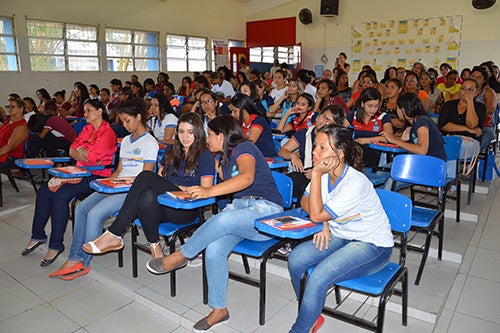 Sexual and reproductive health information and care are essential for women and girls in this community, where residents face not only mosquito-borne illnesses like Zika but also high rates of adolescent pregnancy.  © UNFPA Brazil/Tatiana Almeida
"We want to talk about how women became the caretakers during the epidemic and also the consequences on the family´s economic sustainability," said Ms. Valongueiro, "but also about public policies – such as the lack of basic sanitation, health, social welfare, access to natural resources – because poor and black women are the most affected by the viruses."
Poverty, poor sanitation, and lack of access to health information has left the women and girls of Goiana vulnerable to a variety of health concerns.
"I had chikungunya, and it feels awful," Jocielly told her friends.
"I don´t know if what I had was chikungunya or Zika, but I think it was Zika because I had skin rashes. Other symptoms were fever and headache. It was bad," Barbara recalled.
Jocielly said a family member suspects her baby might have microcephaly, a birth defect caused by Zika. "She is worried, feeling very uneasy," Jocielly explained. "I think she needs to take care of herself and to look for more information."
Adolescent girls in Goiana also experience high rates of early pregnancy, Ms. Valongueiro said.
It is something the girls in the seminar were very familiar with. One of the girls' mutual friends had just given birth.
"She´s okay, but the baby is in the incubator because she was born very little," Jocielly said. The baby had been born by Caesarean section because the mother "is so young...The doctor was afraid of the consequences of a normal delivery."
As is often the case when adolescents become pregnant, the young parents were not equipped to handle their new responsibilities. "Her boyfriend took off," Barbara said.
Listening to young women and girls
At the seminar, Edilene Maria Gomes da Silva, the director of education in Goiana, called for efforts to "listen to adolescents and young women."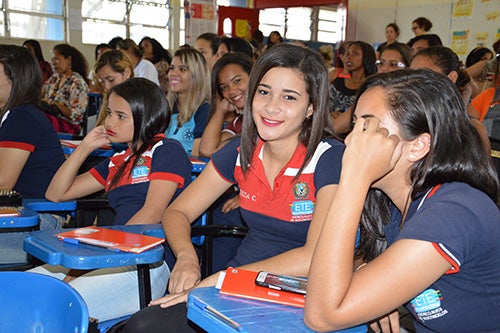 The seminar was organized by the Curumin Group as part of the UNFPA-supported 'More rights, less Zika' partnership. © UNFPA Brazil/Tatiana Almeida 
She also discussed the importance of sexuality education, and said discussions on sexual and reproductive health issues "can help build important skills within the community."
Young people who learn about sexual and reproductive health in schools are bringing their knowledge into the wider community, the seminar organizers noted.
The girls' conversation showed just how true this is.
"I think we have the right to choose if we want to bear a child or not," Barbara told her friends, endorsing women's and girls' right to access family planning.
Condoms are important, Jocielly emphasized, "because it prevents both diseases and pregnancy."
The event was organized as part of the UNFPA-supported 'More rights, less Zika' partnership, which brings together a wide range of civil society partners to address the inequality and health issues at the heart of the Zika outbreak.
– Tatiana Almeida