GENEVA—A new World AIDS Day report: Results, by the Joint United Nations Programme on HIV/AIDS (UNAIDS) shows that unprecedented acceleration in the AIDS response is producing results for people. The report shows that a more than 50 per cent reduction in the rate of new HIV infections has been achieved across 25 low- and middle-income countries—more than half in Africa, the region most affected by HIV.
In some of the countries which have the highest HIV prevalence in the world, rates of new HIV infections have been cut dramatically since 2001; by 73 per cent in Malawi, 71 per cent in Botswana, 68 per cent in Namibia, 58 per cent in Zambia, 50 per cent in Zimbabwe and 41 per cent in South Africa and Swaziland. In addition to welcome results in HIV prevention, sub-Saharan Africa has reduced AIDS-related deaths by one third in the last six years and increased the number of people on antiretroviral treatment by 59 per cent in the last two years alone.
Pace of progress is quickening
"The pace of progress is quickening—what used to take a decade is now being achieved in 24 months," said Michel Sidibé, Executive Director of UNAIDS. "We are scaling up faster and smarter than ever before. It is the proof that with political will and follow through we can reach our shared goals by 2015."
For example, South Africa increased its scale up of HIV treatment by 75 per cent in the last two years—ensuring 1.7 million people had access to the lifesaving treatment—and new HIV infections have fallen by more than 50, 000 in just two years. During this period, South Africa also increased its domestic investments on AIDS to $ 1.6 billion, the highest by any low- and middle-income country.
The report also shows that countries are assuming shared responsibility by increasing domestic investments. More than 81 countries increased domestic investments by 50 per cent between 2001 and 2011. The new results come as the AIDS response is in a 1000 day push to reach the Millennium Development Goals and the 2015 targets of the UN Political Declaration on HIV/AIDS.
Declining new HIV infections in children
The area where perhaps most progress is being made is in reducing new HIV infections in children. Half of the global reductions in new HIV infections in the last two years have been among newborn children.
"This report published by UNAIDS, of which we are a co-sponsor, demonstrates clearly that strategic and sustained actions against HIV are working," said UNFPA Executive Director Dr. Babatunde Osotimehin. "Half of pregnant women testing positive for HIV are already receiving treatment and counselling to help prevent transmission of the infection to their infants. However, we can do better in terms of escalating our efforts to achieve a world of zero mother-to-child transmission of the virus, including by preventing HIV during pregnancy and offering rights-based family planning services."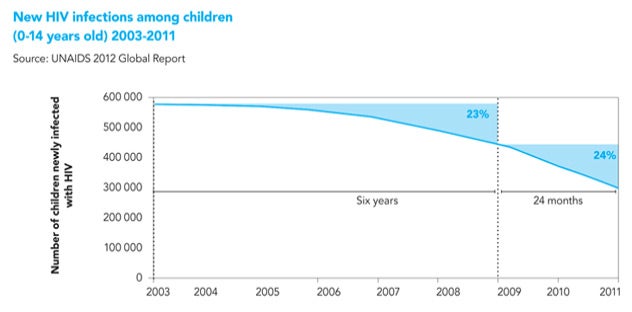 In the last two years, new HIV infections in children decreased by 24 per cent. In six countries—Burundi, Kenya, Namibia, South Africa, Togo and Zambia—the number of children newly infected with HIV fell by at least 40 per cent between 2009 and 2011.
The full report, as well as fact sheets, infographics and videos are available on the UNAIDS website.