TBILISI, Georgia — Nestled in the rugged snow clad foothills of the Caucasus Mountains in Western Georgia, some 260 kilometres from Tbilisi, is the former resort community of Tskaltubo. Like most of the rest of the country hit hard by the collapse of the former Soviet Union, this town's economy unravelled overnight. But there has been no recovery here. Its streets are eerily empty, the health spas and hotels that once catered to the Soviet elite stand abandoned and dilapidated. Most people live from hand to mouth on less than $60 per month.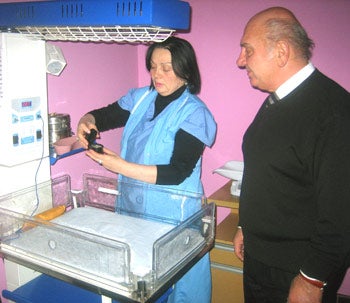 Conditions in Tskaltubo, as in much of the western region of Georgia, remain deplorable. Roads have more potholes than pavement, factories and enterprises have closed down, pauperizing entire communities, and the social support network has virtually disappeared. To make matters even worse, the recent diplomatic row with Russia has resulted, among other things, in the loss of energy supplies for this region.
One of the few buildings with lights is the local maternity hospital, which has its own generator (but with fuel in short supply it is only used to provide electricity to a few rooms – the operating theatre and recovery rooms). The waiting and consultation rooms, though freezing cold, are filled with excited patients, bundled up in layers of warm clothes. The overwhelming majority are women, who are here because of the presence of a Mobile Team of reproductive health specialists operating out of the main reference hospital in the city of Kutaisi, about 30 kilometres away. Most have come for gynaecological or neonatal checkups, screening for breast and cervical cancers, and family planning advice and contraceptives.
The leader of this four person team is Dr. Leri Khonelidze, a gynaecologist who has spent his entire working life in Kutaisi, where he is a household name, referred to simply as Dr. Leri. The team, which consists of two physicians/gynaecologists, a technician and a mammologist, will spend the entire weekend in Tskaltubo.
"This is our fourth visit to this town in 2006," explains the garrulous Dr. Leri. "We cover 22 districts in the western part of Georgia and manage to visit most of them 3-4 times per year. On average, we spend around 80 days a year on the road, visiting small towns and remote communities that have limited reproductive health care services, or none at all." In 2005, the team spent nearly 90 days on the road.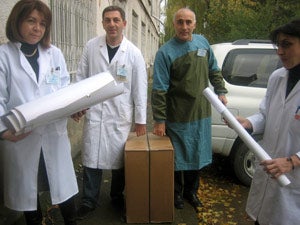 The Mobile Teams are the brainchild of Dr. Tamar Khomasuridze, assistant representative of UNFPA, the United Nations Population Fund, in Georgia, who initiated the programme in 2001, with the enthusiastic cooperation of the Zhordania Institute of Human Reproduction, part of the Ministry of Labour, Health and Social Affairs. In all, there are four Mobile Teams that cover all of the country's 67 districts. The other three teams operate out of advanced reproductive health service centres in Tbilisi, Batumi and Rustavi.
"With the virtual collapse of our health care system in the early 1990s, it was imperative to improve reproductive health care and offer family planning services, especially in remote, hard to reach, communities," explains Dr. Khomasuridze. "So the UNFPA Georgia office came up with the idea of mobile teams consisting of reproductive health specialists based strategically so they could cover the entire country, providing high quality free of charge reproductive health services to local communities, and on-job training for doctors in the field."
"They have fixed schedules so each town knows when their team will arrive and how long they will stay," she continues. "The media have also played a vital role in publicizing the work of the Mobile Teams." In addition to the assigned tasks, the Mobile Teams provide contraceptive supplies to all reproductive health and family planning services in their respective districts.
UNFPA provides the teams with medical equipment, including IUD insertion and surgical kits, ultrasound scanners and power generators, as well as vehicles, contraceptive supplies, pregnancy test kits, and Information, Education and Communication (IEC) materials. The Mobile Teams also conduct in-service training of local doctors in contraceptive technology, counselling skills, and diagnosis and treatment of reproductive health disorders, including sexually transmitted infections.
It was a busy day for the Mobile Team in Tskaltubo, despite a flood that waterlogged half of the town. "We screened and treated 62 women," beams Dr. Leri, taking off his hospital frock and sitting down for the first time in hours. Most of them took advantage of the portable ultrasound scanner, which the team brings with them, while others consulted on family planning or were screened for breast and cervical cancers and examined for reproductive tract infections.
"We provide a complete array or reproductive health services to these communities," says Dr. Leri, "including family planning and contraceptives." Over the course of 2006, Dr. Leri's Mobile Team consulted with and treated over 2,700 women throughout the region.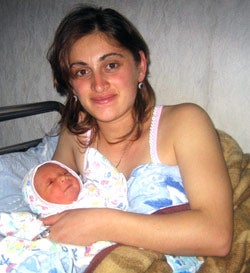 The cumulative record of all four Mobile Teams is stunning. Since 2001, they have provided free reproductive health care services to over 60,000 women, saving the lives of more than 100 women, the majority of whom would have died from complications during childbirth. "We have high rates of diseases among pregnant women," points out Dr. Leri, "including hormonal disorders, and iron and iodine deficiencies. Anaemia among pregnant women is epidemic and 25 per cent of all pregnancies develop complications."
At the regional hospital in Kutaisi, Dr. Leri's home base, up to 115 women give birth every month. Nearly 30 per cent of them require Caesarean sections. Thanks to UNFPA, the maternity ward has the most modern equipment available, including baby heaters, foetal heart rate monitors, and a variety of reproductive health supplies and drugs.
On a warm second floor recovery room, Natia, 25, has just given birth to her second child. "I am very happy to be able to have my baby here in this hospital because it has a reputation for providing excellent care," she says, cuddling her newborn. "We won't have another child, two is enough," she adds, "but if I did get pregnant again, I would not give birth anywhere else."
Thanks to UNFPA, demand for family planning services has increased significantly in the western part of Georgia and throughout the country. "This has resulted in a dramatic decrease in the number of abortions," says Dr. Leri. Nationwide, he explains, UNFPA's family planning assistance "has contributed to a 70 per cent decline in the number of abortions since 1995."
According to Kote Gvetadze, Head of the Regional Public Health Department of the Imreti Region, based in Kutaisi, there has been a surge of interest in family planning, especially over the past decade. "We have given out free of charge over 300,000 cycles of contraceptive pills," he says, "and more women are requesting information on family planning methods every month. This has also reduced incidences of infertility and other complications as a result of too many abortions."
Plans are already in the works for expanding the scope of services provided by the Mobile Teams. "This programme has really made a difference to the reproductive health of women throughout the country," observes Mr. Gvetadze. "But we need to be able to expand our coverage, for instance to diagnose and treat iodine deficiencies, among other things."
Dr. Leri, who has performed over 15,000 surgical operations and delivered 5,000 babies over the course of his 42 year career, is grateful for the support provided by UNFPA. "I am a better doctor as a result of this programme," he says. "We could not provide this level of reproductive health care without the assistance and expertise provided by UNFPA."  
— Don Hinrichsen