HA NOI, Viet Nam – Nearly 3,000 students from 30 universities took part in flash mobs across Viet Nam to raise awareness of sexual and reproductive health issues. The activists converged on the grounds of a popular music festival series, performing up to six flash mobs per day in six major cities, reaching hundreds of thousands of young people with their messages.
The flash mobs took place at Rockstorm, a music tour running from December through January in the cities of Hue, Da Nang, Bien Hoa, Ho Chi Minh, Can Tho and Ha Noi.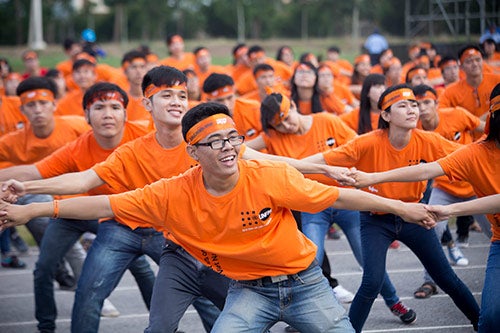 The campaign, called "Linking the Hearts of Vietnamese Young People," took place at Rockstorm, a huge multi-city concert series. © UNFPA Viet Nam
Organized through a collaboration between UNFPA and Rockstorm sponsor MobiFone, the flash mobs disseminated information about adolescent pregnancy, condom negotiation and other key health messages. Information booths, staffed by trained young people, were also on hand to provide information about sensitive issues, including how to use condoms and protect against HIV transmission.
"I believe that if we are equipped with adequate, timely and youth-friendly information and services on sexual and reproductive health, we will have a better understanding and knowledge of safe sex and how to protect ourselves," 20-year-old Truong Van Duoc told UNFPA at the festival in Bien Hoa.
Young people's needs overlooked
Viet Nam's youth population is the largest in the country's history. According to the 2014 State of World Population report, a quarter of the population is between ages 10 and 24; other population estimates hold that the youth population is even larger. While Vietnamese youth are increasingly healthy and well educated, their sexual and reproductive health has been largely overlooked.
Comprehensive sexuality education in schools remains limited, and many Vietnamese young people report facing barriers when trying to access reproductive health information and services, such as contraception. Some groups, including young migrants and young members of ethnic minorities, are even less likely to have access to these kinds of information and services.
Pamphlets about sexual and reproductive health were distributed at the events. © UNFPA Viet Nam
As a result, many young people are vulnerable to unintended pregnancies and sexually transmitted infections (STIs), including HIV. Many women and girls are additionally vulnerable to sexual abuse and gender-based violence.
The flash mob campaign, known as "Linking the Hearts of Vietnamese Young People," was designed to spread messages about safe sex, contraception and youth empowerment, and also to engage young people as activists who can further circulate information about sexual and reproductive health among their peers.
Calling for change
Thousands of young people joined the flash mobs after learning about the campaign through their university networks and over social media. Two popular rock bands also encouraged the participation of fans.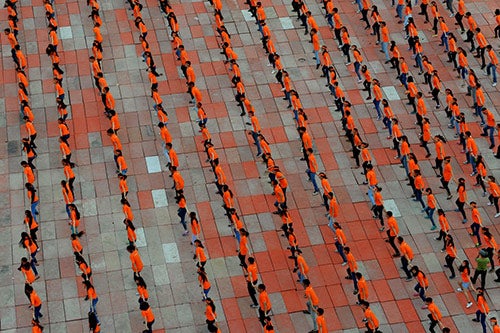 Over 3,000 university students participated in the flash mobs, which took place in six major cities, reaching an audience of hundreds of thousands. © UNFPA Viet Nam
In some cases, interest in participating overwhelmed the organizers. In Ha Noi, nearly 2,000 young people registered to take part in a flash mob intended to accommodate 600 participants. 
The messages from the campaign resonated with Rockstorm's audience. 
"We have received useful information about STDs [sexually transmitted diseases], SRH [sexual and reproductive health], and understand more about the risks we are facing and how to protect ourselves to enjoy life," said Thanh Thao, 18, at the Rockstorm venue in Hue City.
"Sexuality education does not encourage us have sex earlier or be more promiscuous," a student in Ho Chi Minh City told UNFPA. "Instead, we will be more confident in making decisions about sex, smarter in choosing our partners and more successful in negotiating sex. This will make all of us safer and more responsible in sexual relations."