On Wednesday 4 February 2004, Prime Minister, Mr. Hun Sen, launched Cambodia's first National Population Policy at a ceremony in the capital, Phnom Penh.
In his opening speech, Senior Minister, Mr. Sok An, confirmed the Government's commitment to the ICPD Programme of Action. He emphasized that the Population Policy is a prerequisite for the design of effective development programmes, as it paves the way for ensuring the availability of accurate population information. The Population Policy also feeds into the implementation of the Millennium Development Declaration and the National Poverty Reduction Strategy.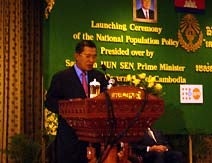 Dr. Sheila Macrae, the UNFPA Representative in Cambodia, then addressed the audience, providing a brief overview of the process of policy development. The National Population Policy was prepared with financial and technical assistance from UNFPA to the Ministry of Planning. Dr Macrae then went on to speak about the strong linkages between family planning, reproductive rights and the empowerment of women established at the ICPD Conference in 1994. She reiterated the principles of reproductive rights as the basic right of all couples and individuals to decide freely and responsibly the number and spacing of their children and to have the information, education and means to do so.
Dr. Macrae ended by assuring participants of UNFPA's commitment to the implementation of the National Population Policy.
Cambodian Prime Minister, Mr. Hun Sen, opened his speech by thanking UNFPA for their support. Mr. Hun Sen then discussed population issues in Cambodia, including the total fertility rate, HIV/AIDS, child and maternal mortality as well as links between population growth and poverty eradication.
The Prime Minister concluded his speech by reminding the participants that no single ministry can take ownership nor responsibility for the Population Policy alone, since the nature of the topics and concerns addressed in the Policy have a wideranging impact. Following his speech, the Prime Minister handed the policy document to Senior Minister, Mr. Sok An, and declared the National Population policy officially launched.