JOHANNESBURG, South Africa — On a whirlwind tour of South Africa last week, UNFPA Executive Director Dr. Babatunde Osotimehin advocated for UNFPA's vision with politicians, partners, media, young people and staff members alike. He spoke about how implementing the International Conference on Population and Development Programme of Action supports the development of African countries.
"When you allow girls to stay in school, to mature and to get an education, they reach a physical, psychological and emotional maturity that enables them to make choices in their lives, to achieve their potential and contribute to their communities' economic growth," said Dr.Osotimehin to a group of  25 young people representing many African nations.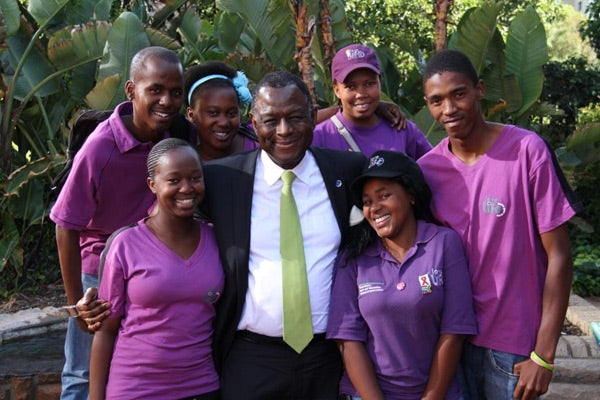 The Executive Director held an informal meeting with young people from all over Africa on issues affecting them as young Africans. Photo: UNFPA/Rayana Rassool
One of the key stops on his mission was  the 60th anniversary of the International Planned Parenthood Federation  at the Pan-African Parliament in Johannesburg, where he congratulated the federation and reaffirmed its strong partnership with UNFPA in the opening speech. In a panel discussion about the role that sexual and reproductive health and rights should play in the future global development framework he highlighted the importance of fully implementing the ICPD Programme of Action.
No culture or context should accept high numbers of women dying while giving life
The Executive Director also focused on the high levels of maternal mortality in African countries and how CARMMA, the Campaign for Accelerated Reduction of Maternal Mortality in Africa, is working to address this issue. "If all women had access to family planning, maternal mortality would decline by one third," said Dr. Osotimehin. "UNFPA is working on the ground in many African countries to reduce maternal mortality. We initiated CARMMA together with the African Union because we have the technical wherewithal to speed up progress towards reducing maternal mortality on the ground," Dr. Osotimehin said. A high-level side event at the African Union Summit in January aims to mobilizes state to do more to save lives.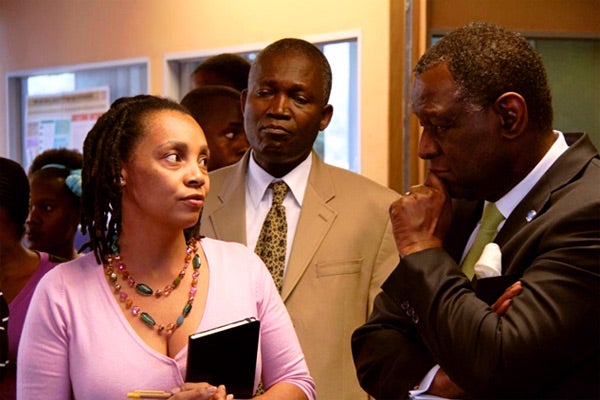 The Executive Director with the Africa Regional Director for UNFPA, Bunmi Makinwa and Executive Manager for Psycho-social support at loveLife, Ms. Precious Magogodi. Photo: UNFPA/Rayana Rassool
The Executive Director's busy schedule included meetings with the South African Minister of Health, the President of the Pan-African Parliament, Members of Parliament from the European Union and visits to the loveLife Headquarters in Johannesburg, as well as with the Wits Reproductive Health and HIV Institute.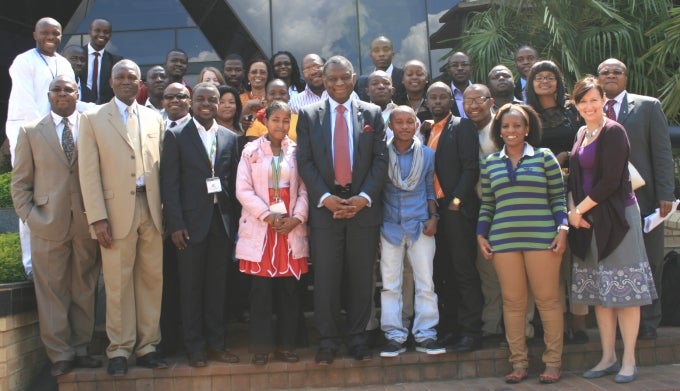 Dr. Babatunde Osotimehin (centre) with ARO Director Mr. Bunmi Makinwa, IERD Director Dianne Stewart, ARO Programme Adviser Keneth Ehouzou, Youth& HIV/AIDS Technical Adviser Dr. Asha Mohamud, HIV/AIDS Programme Specialist Leonard Kamugisha and UNFPA Cameroon Communications Analyst Olive Bonga, with the group of youths.