SOYAPANGO, El Salvador — "I don't want to spoil my future by repeating the mistakes my mother made", says 16-year-old Karla. She is attending a workshop in reproductive health for young people at the San Fernando Clinic in Soyapango, El Salvador. "My mother was pregnant for the first time when she was my age, and my brother became a father two years ago, at age 15."
Soyapango is a heavily industrialized, crime-ridden and densely populated municipality not far from San Salvador, capital of the tiny but populous Central American country of El Salvador. Most of the teenagers' parents are workers who leave the house before dawn and return late at night. Some of them live without one or both parents and are raised by their grandparents. In spite of the difficulties they face, several have clearly defined ambitions: computer engineer, language teacher, social worker.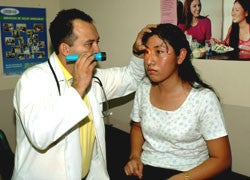 About 33 per cent of pregnant women who seek medical care at the San Fernando Clinic are in their teens. In many cases, this means an end to education and crushed hopes for a better future.
"For some, a pregnancy too early in life can lead to psychological hardships, resulting in eating disorders and even suicide," said Dr. Roberto Gonzales, a doctor at the clinic.
Teen pregnancies also often lead to complications, such as hypertension and severe anaemia, as a girl's body might not have developed sufficiently to bear children.
At the national level, more than 30 per cent of all mothers-to-be who seek medical help at hospitals and clinics are teenagers. By contrast, in some European countries only 0.5 per cent of those who give birth are in their teens.
"Even if overall birth rates have diminished slightly, the percentage of teen pregnancies remains high. It is one of our major problems," said Dina Eugenia Bonilla of the Salvadoran Ministry of Health. "The main reasons are a lack of sexuality education, combined with poverty."
The course offered at the San Fernando Clinic is one of several supported by the Salvadoran Ministry of Health and UNFPA, the United Nations Population Fund. Last year, nearly 2,400 adolescents were educated through the programme.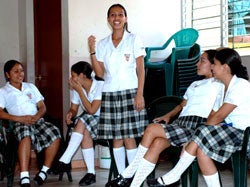 The volunteer facilitators use humour and interactive games to get messages across about prevention of sexually transmitted infections (STIs), including HIV/AIDS, and unwanted pregnancies. "It makes us reflect about our future, and helps us avoid doing things without thinking," says Karla. She is planning to build a better future for herself by studying business administration. "I will have to work during the day and study at night, but that's what I want to do", she says with quiet determination.
The $718,000 project, funded by several United Nations agencies, targets adolescents in 13 municipalities around the country and will continue until next year. Its principal aim is to educate course facilitators, health personnel, adolescents and their parents in reproductive health.
Dr. Herbert Vasquez Cardona, a gynaecologist and obstetrician at the San Bartolo Hospital in the nearby city of Ilopango, says that pregnant teens are often forced out of their homes when their parents discover that they are expecting a child. "Then, as the birth is drawing closer, they are sometimes welcomed back into the family", he says. But the possibilities for education and a good job may be gone.
San Bartolo Hospital runs a programme for pregnant teenagers, which offers information about proper nutrition, hygiene, the importance of prenatal care, what to expect during pregnancy as well as advice on family planning. A similar course is also offered to teenagers deemed to be at high risk for early pregnancies. The programme targets those who get in touch with the hospital because they have been raped or exposed to other forms of violence.
These projects are established in response to priorities set by El Salvador's Government, and is also in line with the Programme of Action agreed upon by governments at the 1994 Cairo International Conference on Population and Development (ICPD), emphasizing that "information and services should be made available to adolescents to help them understand their sexuality and protect them from unwanted pregnancies, sexually transmitted diseases and subsequent risk of infertility."
Globally, one in five persons is an adolescent (age 10-19), half are poor and one fourth live on less than one dollar per day. Many are sexually active, often without the power, knowledge or means to protect themselves.