MONROVIA, Liberia – After recovering from the near-death experience of an Ebola infection, survivors in Liberia are reporting that their ordeal is not yet over. Many say they are encountering hostility, exclusion and unemployment when they return to their communities.
Many survivors are returning home to find their possessions have been destroyed to prevent the spread of virus. Fear and distrust among community members is leading to isolation and loss of income.
In addition, many survivors have lost loved ones to the disease and continue to experience lingering pain after they are discharged from treatment – exacerbating the difficulties they face when attempting to return to everyday life.
As of 2 February, Liberia reported 3,138  laboratory-confirmed cases of Ebola. Suspected and probable cases of the illness bring the total caseload to 8,668. Of these, about 1,400 people have survived the disease after receiving treatment. Some 3,600 have died.
Women most vulnerable
Female Ebola survivors face especially high barriers to resuming their normal lives. Because they have less access to jobs and education, women and girls are more vulnerable socially and economically. The wives and children of people killed by Ebola also struggle with financial hardship and stigma.
"It is essential that the response to the Ebola epidemic is comprehensive and goes beyond the risk of infection for women. It should involve addressing the psychosocial and socio-economic impact of Ebola on women and girls in a sustainable way," said Oluremi Sogunro, officer-in-charge of UNFPA in Liberia.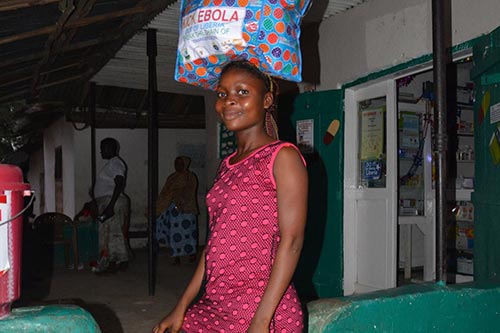 Patience, an Ebola survivor, carries home supplies she has received from UNFPA. She became ill after caring for her friend, Promise. © UNFPA Liberia
With funding from the Swedish International Development Cooperation (SIDA), UNFPA has identified more than 1,000 vulnerable women and girls – those who either survived Ebola or who lost their parents or husband to the disease.
UNFPA is distributing mattresses and dignity kits, containing soap, sanitary napkins and other hygiene supplies, to these women and girls. On 21 January, for example, about 250 women and girls were reached with dignity kids and mattresses.
UNFPA is also working with a local partner – an organization called THINK – to draw up a comprehensive support system for women and adolescent girls who have survived Ebola. This programme will also aim to address the health needs of women Ebola survivors.
"We are committed to helping the Government in its drive to support Ebola survivors," Dr. Sogunro added.
And because the epidemic has undermined health systems throughout the country, UNFPA is also working to ensure that health services remain available to all women – especially pregnant women. UNFPA has provided drugs and equipment to health facilities, and has distributed personal protective gear and infection-prevention materials to help health workers continue to provide sexual and reproductive health care.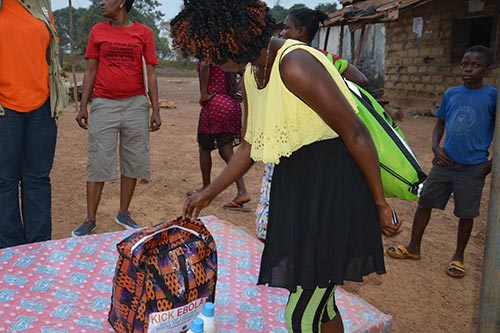 Promise, an Ebola survivor, inspects supplies received from UNFPA. She is among the Ebola survivors who have taken on the task of caring for patients at Ebola treatment units around the country. © UNFPA Liberia
Helping themselves and others
Promise, 33, survived an Ebola infection, but the disease claimed her mother, husband and two children. She is struggling to care for her remaining three children, and says that stigma is a key concern.
Nevertheless, she is determined to move forward.
Promise is one of the many Ebola survivors who have agreed to work at Ebola treatment units across the country, providing direct care, treatment and moral support to other Ebola patients.
"I have agreed to work at the Ebola treatment unit in Tubmanburg," Promise said, referring to a large treatment facility opened in Bomi County.
Few people know what it means to endure the deadly illness – but Promise and other survivors do. The work also offers them a critical source of income.
"I have to do something to survive," she said, "and to also help others."
–Calixte Hessou