This year, the month of June will be a time of celebration in Egypt. Parties will be thrown for young girls who have reached the age of 13 with their sexual organs uncut, having escaped the age-old practice of female circumcision or, as it is now known, female genital mutilation/cutting (FGM/C.) Among other things, the month-long festivities will honour the memory of Badour Shaker, a 12-year-old girl from southern Egypt who died in 2007 while a physician was performing the procedure.
But most of all, the celebration will honour the mothers of today's young girls who have taken the decision not to circumcise their daughters. The celebration, which is expected to be repeated in coming years, is being planned by Egypt's Ministry of Health and Family and Population, working closely with the UNFPA-UNICEF Joint Programme on FGM/C towards the total abandonment of the practice. FGM/C is firmly entrenched, but declining
FGM/C is still widespread – but increasingly condemned – throughout much of North and East Africa. However, the recent history of the practice in Egypt presents special challenges for those trying to end it. According to the national 2008 Demographic and Health Survey (DHS), 91 per cent of Egyptian married women between the ages of 15 and 49 have undergone FGM/C. In Egypt, it is generally performed around the onset of puberty, and it is practiced for different and overlapping reasons. In a 2005 DHS survey, almost three-fifths said they adhere to the practice to maintain tradition, about a third said the practice reduced sexual desire, another third thought it essential for hygiene and cleanliness, and 12 per cent supported FGM to gain religious approval.
While still firmly entrenched in Egypt, the practice does appear to be declining. Today, approximately 75 per cent of all girls aged 15 to 17 have been cut: two decades ago, the figure was nearly 100 per cent. Education also seems to play a role: 87 per cent of women with a secondary or higher education are cut compared to 98 per cent of women with no education. Perhaps most significantly, the DHS survey shows that in 2009, only 63 per cent of married women believed that the practice should continue, compared to 82 per cent in 1995.
The medicalization of FGM/C
What sets Egypt apart from other countries that practice FGM/C is that more than 75 per cent of female circumcisions in Egypt are performed by medical personnel: doctors, nurses and medical technicians. While the medicalization of the practice began as a way to reduce complications, it had the effect of institutionalizing it.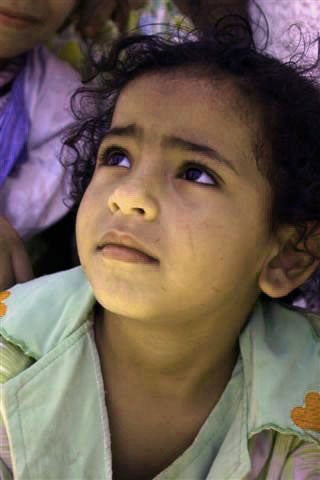 One of the key messages of the ground-breaking International Conference on Population and Development , which took place in Cairo in 1994, was that a number of traditional practices, including FGM/C, are harmful to women's health. At that time, it was performed in Egypt, as in other countries, by untrained village women, traditional birth attendants or even male barbers using crude implements in unsanitary conditions with no anesthetic. Haemorrhage, infection and trauma were common.
"The conference launched a very intensive, medically-oriented campaign against FGM," says Amel Fahmy, UNFPA's Coordinator for the Joint Programme in Egypt. "They talked about the severe health complications of the procedure. This made people afraid and they started going to doctors so that it could be done 'properly' and 'mildly,' without complications. People wanted to be 'modern' so they went to the doctor." For a fee ranging from around $20 to nearly $100, physicians have been performing FGM/C on a regular basis, under aseptic conditions, sometimes with an anaesthetic, sometimes using a localized spray that numbs the area. So, ironically, instead of fading as women's rights advocates had intended, in Egypt, FGM/C became, in effect, medically sanctioned.
The practice continued in this way without much change for more than a decade until the death of 12-year-old Badour Shaker in 2007. Extensive media coverage and a public outcry changed many people's perception that medically supervised FGM/C was a benign procedure. Mounting advocacy against the practice by international organizations reinforced the message. That same year, the practice was banned in Egypt by ministerial decree and in 2008 the Egyptian Child Law made FGM/C illegal and punishable by revocation of the physician's medical license and/or up to three years in prison.
Nevertheless, it was clear that simply declaring it to be illegal would not be enough to halt the practice. The Ministries of Health and of Family and Population, working with the UNFPA-UNICEF Joint Programme and the USAID-funded Communication for Healthy Living, decided they needed to raise awarewness of physicians to stop the practice.
Egypt launches Doctors against FGM/C
The resulting initiative, Doctors against FGM/C, has trained a core group of 300 physicians in 8 governorates to serve as advocates against the practice. After being trained in the physiological and psychological effects of FGM/C, each of these physicians will conduct a one-day workshop for around 25 other physicians practicing across most of the country. Under the programme, a total of 200 physicians will become master trainers and advocates against FGM/C. Because they will have been trained under the auspices of, and will speak on behalf of the Ministry of Health, the qualifications and authority of these trainer-physicians should be readily accepted by their colleagues in the field. The trainers will then fan out in their communities and work to convince other doctors to give up genital cutting. Over time, the programme will reach most of Egypt's physicians, a majority of whom work in government hospitals and clinics.
The message they promote is that even if it does not directly cause severe medical problems, genital cutting violates the rights of women, can result in significant physical or psychological damage, is not a religious requirement and is not beneficial. These arguments, it is hoped, will persuade physicians to abandon FGM/C and encourage them to recommend that their patients do the same. Patients generally respect their physicians and their recommendations, so advice to avoid genital cutting should be quite influential. The new law also requires doctors to remind patients that such cutting in now illegal in Egypt.
Curbing demand is critical
The creators of Doctors against FGM/C recognize that patients as well as physicians must be prepared to give up genital cutting if the programme is to succeed. Thus, participating physicians are trained not only in the medical reasons for not doing the procedure; they also learn how to counsel parents about the negative effects of FGM/C and how to dissuade those who want to go ahead with it. "The parents must be convinced," says Ms. Fahmy. "Otherwise they will just leave this doctor and go to another one. That's why we need doctors who are active advocates against FGM." Some doctors have initially questioned the programme, arguing that if they refuse to perform the procedure parents will simply resort to untrained midwives where the risk of infection is far greater. "Our argument is that this is not an excuse for medical personnel to perform FGM," says Ms. Fahmy. "The doctor is the highest authority in the village, he is looked up to as somebody who is well-educated, who is respected. So if the doctor practices FGM it sends the message that it's a good practice and people should do it. But when doctors stop practicing this, it sends the message that it is wrong."
Wielding influence as well as scalpels
All of the initial 30 trainer-physicians are influential members of their local communities. Many practice in rural areas where FGM/C is most widespread. Some were already opposed to the practice. Others, who previously accepted FGM/C simply because it was tradition, have become convinced that it is unnecessary and harmful. Other doctors (along with millions of their countrymen) have learned that, contrary to long-held assumptions, the practice does not reflect the teachings of Islam. In July 2007 the Al-Azhar Supreme Council of Islamic Research, the highest religious authority in Egypt, issued an official statement that FGM/C has no basis in Islamic law.
Moreover, training of the anti-FGM/C physicians emphasizes that the practice is not medically sanctioned and violates the internationally accepted medical code of ethics embraced in the words, 'First, do no harm'. "The doctors have been taught that each organ has a necessary, natural function," says Ms. Fahmy. "Organs should not be cut because that is a violation of medical codes." Since FGM/C is now illegal, there is no discussion of compensating the doctors for loss of income for not engaging in it.
To date, several Egyptian physicians reported to be practicing FGM/C have had their medical licenses revoked, and many cases have been taken to court.
According to Ms. Fahmy, it turns out that many physicians have a poor understanding of female genital physiology. "They were not properly trained in the first place," she says. "We found that many of the doctors are unclear about the function of the different genital organs," says Ms. Fahmy. "They lack basic information that they should have had and the programme training has helped them. Many are now on board because they now have knowledge they didn't have before."
The Doctors against FGM/C training is designed to address and dispel – both in the minds of physicians and of parents – the age-old myths that justify and have entrenched FGM/C. Although the Koran explicitly states that a woman should have pleasure in her sexual life, many who favour FGM/C believe that removing the clitoris will remove the temptation to engage in illicit sexual relations.
The trainer/physicians are taught to explain that this is not the case and to point out that sexual arousal is a function of the brain and can occur whether the female sexual organs are intact or not. They also remind their listeners that the vast majority of prostitutes and women in adulterous relationships in Egypt have been cut, and that this has not deterred them from having these relationships.
Upholding the law
The UNFPA-UNICEF Joint Programme on FGM/C and the Ministry of Health are establishing mechanisms to detect and prosecute continuing incidents of FGM/C inside government health facilities. It is believed that fast, vigorous prosecution of health professionals who violate the FGM/C law early in the programme show that the government is serious about ending FGM/C in Egypt.
The Joint Programme has also been training the staff in the Ministry of Health that is responsible for inspecting hospitals and private clinics and reporting violations to the District Attorney. But monitoring the practice is very difficult. Most cases are discovered after the fact because the girl is rushed to the hospital with severe bleeding. Inspectors must then trace the case back to the doctor who performed the procedure.
A holistic approach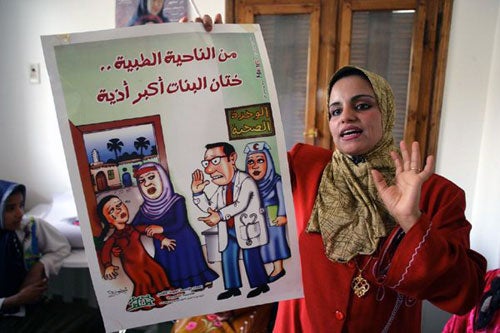 Mona Omar, a social worker, holds an FGM-awareness poster at a village meeting. Photo: Giacomo Pirozzi/UNICEF
Even the participation of nearly all of Egypt's physicians will not by itself eliminate FGM/C entirely. The issue of demand must also be addressed. Changing such a deep-rooted cultural practice will require the commitment and efforts of many sectors of society. "Our initiative will at least enable doctors to say no," says Ms. Fahmy. "But our programme is also working with the general population, helping them to understand the effects of this practice. We're working with communities, with the media, doing a lot of things parallel to this initiative. So there are a lot of other interventions."
For example, the Joint Programme has been supporting 17 community-based organizations working to eliminate FGM/C in 19 communities in four governorates. To date, 4,355 girls in these communities have reached the "safe age" of 15 to 17 without being cut and have been celebrated by local authorities. In 2008, 5,850 families of girls at risk declared their abandonment of FGM/C. In 2009, they were joined by an additional 9,027 families. Although, numerically, these are small victories in a country with approximately 12 million girls under the age of 15, they have taken place in a short time period and represent signs of a shifting consensus, which is a key element in dismantling deeply lodged social conventions such as FGM/C.
Other anti-FMG/C-related activities include local action plans for the creation of 11 Child Protection Committees now being implemented at the national, district and community levels. The committees are responsible for overseeing and resolving child protection issues, including monitoring FGM/C and reporting incidents that violate the ban.
But ultimately, it is public awareness and consensus that will end the practice. This is why the Joint Programme proposed the idea of a month-long celebration against FGM to the Ministry of Health. "We are working with doctors to decrease the supply," says Ms. Fahmy, "but we are also working with the population as a whole to decrease the demand."