MAIDUGURI, Nigeria – Despite the recent return of dozens of girls abducted by the insurgent group Boko Haram, the crisis in northern Nigeria remains acute, with mass movements  of civilian populations within the country and over the border.
Food shortages, lack of security and deepening poverty mean conditions are dire for many northern Nigerian families. Some 8.5 million people require life-saving aid in Adamawa, Borno and Yobe States, according to recent UN reports. Hundreds of thousands more are living as refugees in neighbouring countries.
The urgent needs of affected populations threaten to overshadow the specific health needs of women. Yet modern contraceptives and reliable family planning information are critical for these women and girls, whose lives have been turned upside-down.
UNFPA and partners are working to provide access to these services.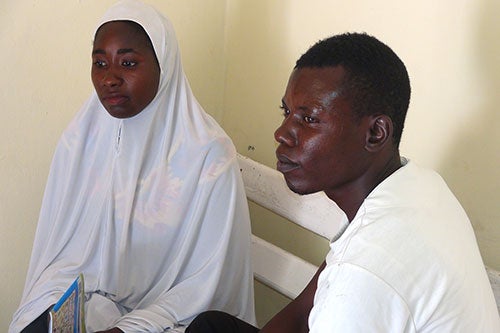 Sakina Sani and her husband are seeking family planning services at the Muna Garage camp in north-eastern Nigeria. © UNFPA Nigeria/Kori Habib
The most vulnerable and marginalized
Many women and girls were already extremely vulnerable before the crisis.
Twenty-five-year-old Sakina Sani, for instance, was married off when she was 12 years old – before she had even reached puberty.
"I was married off to my husband. It was an arranged marriage by our tradition, and I was brought down to Maiduguri," she said.
She became pregnant at 15, but miscarried. Soon after, she had a baby girl, and then a boy. Today, the children are 5 and 2 years old.
And while Ms. Sani would like to have a total of four children, she feels that now is not the right time to get pregnant. Her family is crowded together in a displacement camp, struggling to get by.
This is why Ms. Sani was seeking family planning services at a UNFPA-supported health centre in the Muna Garage camp.
"I had to come here after we discussed, between myself and my husband, that things are difficult financially," she explained.
The power of planned pregnancies
Soon afterward, she was called into an examination room to have a contraceptive implant inserted into her arm. The long-acting device is popular among women with limited access to health services.
Hajja Fati was also at the clinic – but she was waiting to have her contraceptive implant removed.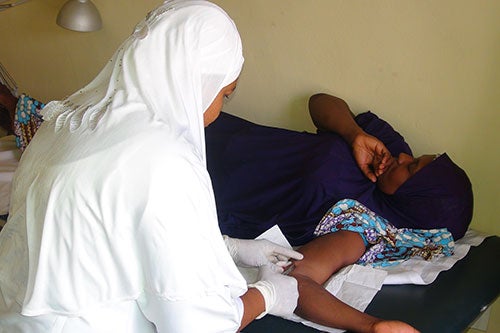 Hajja Fati has her contraceptive implant removed. She and her husband are ready to have another baby. © UNFPA Nigeria/Kori Habib
It had enabled her to finish school, which in turn improved her family's financial prospects. Now, she said, she and her husband feel it is the right time to get pregnant.
"I am ready to have another child, and so it's a well-planned arrangement that is ok for us," she explained.
Increasing awareness, access
UNFPA, together with the Government of Nigeria, is procuring and distributing essential reproductive health commodities and medicines around the country, including modern contraceptives.
The programmes also include training to enable health workers to provide family planning counselling. And communities are being targeted with accurate family planning information through community-level advocacy efforts, radio spots and billboards.
Support for this programme has come from a variety of donors, including the US Agency for International Development, which provided funding for operations between 2014 and 2016.
As a result of these activities, experts say more women are seeking family planning information and services. More than 1.5 million women and girls in north-eastern Nigeria were reached between 2015 and 2016.
Many of those women say it has been empowering to make decisions about their own futures. Ms. Sani says this is what she wants for her own daughter.
"I will never allow my daughter to go through what happened to me," she said. "My daughter will be 20 and will have an education – this is what we want. And she will choose her husband," she added.
Government representatives and health experts will take up the issue of expanding access to family planning in crisis-affected communities at the upcoming Family Planning Summit in London. 
– Kori Habib