RIO DE JANEIRO, Brazil – The Olympics Games is a unique opportunity for countries to promote diversity, camaraderie and unity. These values inspired this year's Olympics logo: a circle of three people holding hands. The icon recalls the hospitality of Rio de Janeiro, this year's Olympic host, and "extends a warm and friendly embrace" to the world, according to the Games organizers.
These values also inspired the #EuAbraço – or "#iEmbrace" – campaign, a massive public health initiative targeting Olympics spectators, fans and athletes with condoms, sexual and reproductive health information, HIV testing, information about human rights, and messages about tolerance and unity.
On 4 August, the #EuAbraço campaign began distributing over half a million male and female condoms, as well as leaflets on human rights, ending racism and gender-based violence, preventing sexually transmitted infections including HIV, and preventing Zika. The official hotlines for reporting gender-based violence and sexual exploitation are also being disseminated.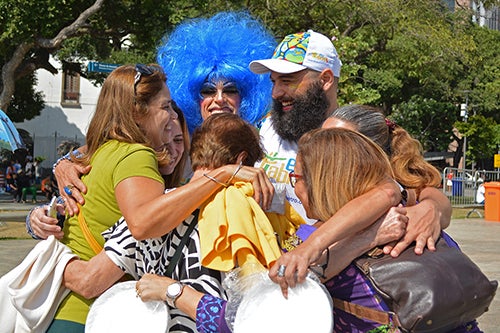 The campaign is using hugs to engage people in practicing safe sex to prevent sexually transmitted infections, including HIV and Zika. © UNIC Rio/Pedro Andrade
#EuAbraço also launched the "hugmeter," an online platform that allows participants to post photos of themselves hugging other people.
One campaign volunteer, a youth leader living with HIV, said the initiative's message of friendship, diversity and non-discrimination will help reduce the stigma and prejudice facing people with HIV.
"I believe that hugging can make the impossible happen," he said.
Campaign activities will run through the Paralympic Games, which end on September 18.
Meeting unmet needs
Brazil's marginalized populations are highly vulnerable to discrimination, poverty and disease, including HIV and Zika. They are also more likely to lack access to reproductive health services that could help prevent and treat these illnesses.
"These groups require focused action, so they can exercise their human rights, especially reproductive rights," said Jaime Nadal, UNFPA's representative in Brazil.
An estimated 4 million women in Brazil have an unmet need for contraceptives, including condoms.
The campaign – an initiative of UNFPA, the Joint United Nations Programme on HIV/AIDS (UNAIDS), Brazil's Ministry of Health, the European Union and other partners – aims to use the spirit of the Olympics to reach these populations with essential information and care. 
It has targeted mass gatherings of people, including so-called "live" sites, where large screens display Olympics events, drawing dense crowds of spectators. In Salvador, Bahia, an adapted bus provided by the municipal administration is offering condoms, HIV testing, and sexual and reproductive health information. HIV testing has also been offered in Rio.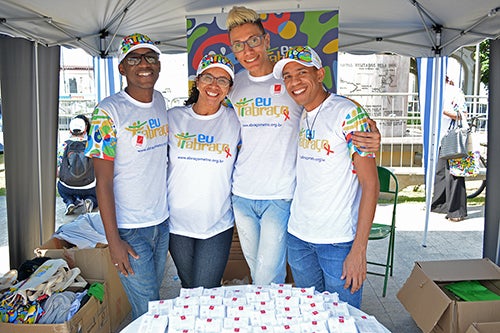 Volunteers are distributing condoms on the streets of Rio as part of the #EuAbraço campaign. © UNIC Rio/Pedro Andrade
In addition, the Ministry of Health and the Brazilian Olympic Committee have installed condom dispensers at the Olympic Village and are making available a record amount of condoms to athletes.
Embracing diversity
The hugmeter – now available online in Portuguese, Spanish and French – is helping to raise awareness of these activities, and of the values underpinning the Olympic Games. The website takes into account the total wingspan of each person engaged in a hug, adding these numbers up to a symbolic collective hug target.
"It was inspired by principle number 6 of the Olympic Charter, which is precisely the principle of non-discrimination," said Georgiana Braga-Orillard, UNAIDS Brazil Country Director. "We want to use the hug gesture to bring a very positive message to people at this time, during the Games, so that they also embrace diversity and those who are most vulnerable to HIV/AIDS."
"The #EuAbraço campaign is a simple and fun way to share values such as respect, equality and non-discrimination, which are fundamental to the promotion of human rights," said Mr. Nadal. It also brings "special attention to sexual and reproductive health, to promote the prevention of HIV, STDs and now the Zika virus, which is also transmitted by unsafe sex."
– Ulisses Bigaton