Francistown -- Botswana is the front line of the war against AIDS. This insidious disease has spread silently, but all too swiftly through the population of this southern African nation, that sits on top of South Africa. UNAIDS estimates that fully one-third of Botswana's sexually-active population between the ages of 15 and 49 (out of a total population of 1.5 million) are infected with the virus that causes AIDS, the highest rate in the world. About 85 persons are infected with HIV every day and one of every eight infants are infected at birth.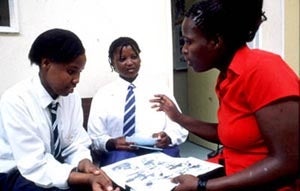 "We need to declare war on this pandemic," says Reverend Benjamin Walter Mpho Moruakgomo of the African Methodist Episcopal Church, and one of the country's leading advocates for making this disease the government's number one challenge. "There is nothing that represents a bigger threat to our lives than HIV/AIDS. It has wreaked havoc on our population – I don't know one family that has been spared."
" We are all infected with this virus because we all live in a country that is infected. And until we win the war against AIDS no one can say 'I am not infected'. "

--Mpule Kwelagobe
The disease has affected every segment of society, sparing no one. It spread rapidly after being detected because many people did not understand how it was spread, or how to prevent it. Although recent UNFPA surveys show that nearly 80 per cent of people in the 15-49 age group have some knowledge of how AIDS is contracted, they are not altering their sexual behaviour. The problem now is how to transform knowledge into action. Failure to change behaviour is aggravated by the conspiracy of silence that has surrounded AIDS. Because infection carries a tremendous societal stigma, many people who are HIV positive do not go in for testing or counselling, and the course of the disease continues to take its toll.
Former Miss Universe and UNFPA Goodwill Ambassador, Mpule Kwelagobe is unequivocal about AIDS and what the government should be doing about it. On a one week trip to Botswana with four international journalists, sponsored by UNFPA, Mpule visited local project sites and talked with health personnel and representatives of local governments about the need to face up to the AIDS pandemic and what it is doing to her country. Speaking to a group of villagers and political leaders gathered under a tent in the quiet suburb of Kanye, 30 kilometres from Botswana's capital, Gaborone, she states boldly: "We are all infected with this virus because we all live in a country that is infected. And until we win the war against AIDS no one can say 'I am not infected'."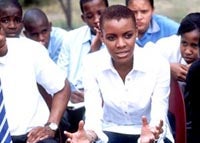 Mpule's message that everyone in Botswana must face the threat of AIDS directly, not hide from it, has helped to galvanize government and NGO campaigns to fight the disease. "We are taking a multi-sectoral approach to combating AIDS," says Ms. Joy Phumaphi, Botswana's Minister of Health. "We are focusing our prevention efforts on youth, because they are our future and also the group must susceptible to HIV infection."
Despite the very high infection rate, the faces of AIDS are not easy to find. In a dark, nearly window-less concrete block house on the outskirts of Gaborone, a woman props herself up on one bony elbow and stares blankly at the camera. Her name is Dipuo and she is just 23 years old, with two small children, 2 and 6 years old. The disease has entered its final stages and she has only a few weeks to live. As her children play at her bedside, Dipuo talks quietly with Mpule and a small group of journalists. " I was diagnosed HIV positive in July 2000, after a series of illnesses," she explains in a voice barely audible. "My boyfriend ran away when he found out I was infected. I have no idea where he is." She doesn't know if her two children have the virus or not, they haven't yet been tested. But her grandmother will take care of them when she is gone. "I have been lucky in one way,' she explains, "the village has not ostracized me." This village, known as Gabane, is being mobilized to get the message out about AIDS, as well as to treat victims with dignity and compassion.
In 1999, with private investment, Mpule set up an independent foundation dedicated to combating the AIDS pandemic in Botswana. Dipuo is one beneficiary of Mpule's efforts. Her foundation has supported the Gabane Home-Based Care Project which provides victims living in this small community with food, basic medical care, and above all with companionship and compassion. It is a model that is being replicated in other parts of the country.
"We all know people who have died from AIDS," says Mpule. "We can take definite steps to fight this disease. We can no longer afford to bury our heads in the sand."
The social and economic costs of ignoring the pandemic have been debilitating for the country. The average life expectancy in Botswana has fallen from 67 years to 47 as a result of AIDS. Within 15 years the economy, though continuing to grow thanks to its main export, diamonds, is projected to be one-third smaller than it would have been without the impact of AIDS on the work force.
Francistown, known as the AIDS capital of the world, is the country's second largest city, situated 400 kms north east of Gaborone. Here the ravages of the disease are seen in the frightened look of residents, the proliferation of fresh graves in the cemeteries and the number AIDS victims occupying hospital beds as they wait to die.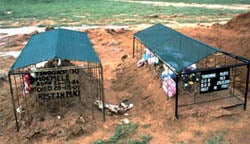 "Every Saturday we bury on average 14 AIDS victims and every Sunday 10, every week, year round" explains Mrs. Margaret Msojane, former President of the Francistown YWCA and a local tribal chief. " In some of the smaller villages around Francistown they have three funerals every week – all the victims have died from AIDS."
Francistown, like the rest of the country, simply didn't recognize the threat for what it was. But they are taking action now. "We are grateful to the international aid that we have received, especially from UNFPA, in our efforts to fight this war," says Mrs. Msojane.
Back in the capital, Helen Mhone is another outspoken advocate of the need to take action to fight AIDS. She has a compelling reason for doing so – Helen is one of only 12 people in the entire country who have "gone public" with their HIV positive status. In an effort to help other women, like herself, get through the agony of infection, she founded an NGO called the Coping Centre for People Living with AIDS (COCEPWA). All members are women and all are HIV positive. Founded in 1999, it now has 45 members and 50 volunteers. The women meet every week for therapeutic workshops where they share worries, concerns and experiences. The atmosphere is positive and the talk constructive.
"We support each other like a family," says Helen. "Before I set up this initiative, there was nothing like it. No support groups existed for HIV positive people trying to cope with the awful reality of the disease and their own mortality. But we have made great progress in bringing this disease out into the open."
Helen's own story is not atypical. "I was diagnosed positive in 1993. It was a terrible experience. I went through stages – deep depression, total denial, and finally acceptance", she explains. "But the worst problem was how to tell my children. It took me two years to tell them and shortly thereafter I went public with my status."
Part of the problem is that the type of virus afflicting Botswana tends to infect more women than men. However, women have never had much of a say in family matters. "We are fighting to change this," says Helen, her jaw set firmly as she talks. "It is important to empower both partners together to fight AIDS."
Like Mpule, Helen thinks the emphasis of the government's campaign should be on prevention, with a focus on youth. "Prevention is the only way to stop this nightmare from engulfing the country," says Helen. "And our young people need to get involved in this fight if we are going to win it."
Thanks in part to a generous grant from the Bill and Melinda Gates Foundation in Seattle, Botswana is beginning to launch a major nation-wide anti-AIDS campaign. At its core are a number of inter-linked prevention strategies involving young people and local communities. Known as the African Youth Alliance, the project will run for five years and also involves Ghana, Tanzania and Uganda.
One such beneficiary of the project is Miss Gaone Beauti Dikgole, a 22 year old volunteer community health motivator working in Kanye, under the auspices of the Botswana Family Welfare Association (BOFWA). As she demonstrates the use of condoms, both male and female, she explains the reasons for using them to a group of slightly embarrassed teenagers and grade school children. "This is very important work," she states frankly, "I go around to schools, community groups, churches, and even town councils to preach prevention and how to do it! It is important for Botswana that young people come forward and take responsibility to do what they can to stop this disease. AIDS is the biggest killer in this country and we must all do our part to halt it."
--Don Hinrichsen