KATHMANDU, Nepal – Four months after landslides and flooding devastated much of mid-western Nepal, thousands of survivors are now enduring bitter winter temperatures. "I do not have enough clothes to protect myself during this winter. Whatever clothes we had were swept away by the flood," said Kalpana Thapa, 25, of Chauparia Duruwa-9 in Dang District.
UNFPA has distributed the last of its flood-response provisions in four of the worst-affected districts – Banke, Bardiya, Dang and Surkhet. Included in the final tranche of supplies were dignity kits containing warm winter clothes, flashlights, soap and sanitary napkins.
Many families in the area are still living makeshift camps. Ms. Thapa's shelter is covered by a thatched roof that offers little protection from the elements. 
"The warm clothes we received are very helpful for me, and even for my child," Ms. Thapa said. Still, she noted, "my child is sick due to cold [and] cough, probably with pneumonia."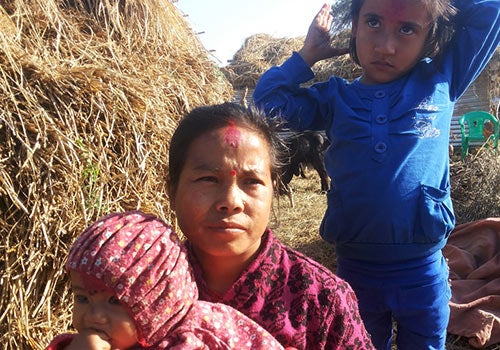 Kalpana Thapa with her children in Duruwa-9 Chauparia, Dang District. © UNFPA Nepal/Prakash GC
Braving the cold
The Government of Nepal issued a request for humanitarian assistance after monsoon rains triggered widespread flooding in August. Some 130,000 people were affected by the disaster, according to Nepal's Ministry of Home Affairs.
In response, UNFPA has provided dignity kits and reproductive health kits worth approximately 15 million rupees. A total of 4,125 dignity kits were procured by UNFPA and delivered by the Department of Women and Children, district-level Women and Children's Offices and chapters of the Nepal Red Cross Society (NRCS).
"There was an urgent need for this support," said Moti Kumari BK, a women's development officer with the Women and Children's Office in Dang.
Families continue to rely on temporary toilets and temporary water solutions, even as the need for water – especially clean drinking water – is growing. The dignity kits are helping families maintain hygiene amid these conditions. Because of their increased vulnerability, pregnant and lactating women are a key target of the distribution. Winter shawls, for example, are helpful for women breastfeeding in the frigid temperatures.
"The items I received in support have helped us brave the cold," said Puspa BK, 26, as she nursed her baby. They are living in a shelter in Chauparia Duruwa-9 after losing their home to the floods. "Our temporary shelter is too cold to live in," she added.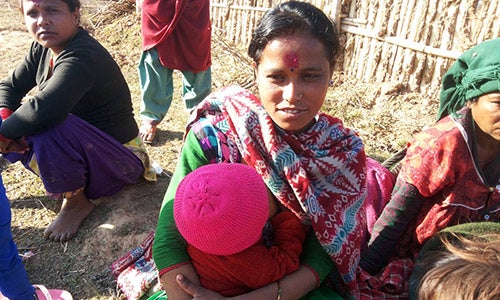 Puspa BK breastfeeds her baby in Chauparia, Dang District. © UNFPA Nepal/Prakash GC
Health support
UNFPA has also distributed reproductive health kits in the affected areas. These kits contain medicines, equipment to support safe deliveries, family planning supplies and – because sexual violence often increases in the aftermath of disasters – supplies to aid in the treatment of rape.
Each kit is designed to provide reproductive health services to between 10,000 and 30,000 women for a three-month period. These supplies were distributed by the Epidemiology and Disease Control Division and NRCS.
UNFPA is also continuing to work with the government, other UN agencies, and local and international partners to ensure that the needs of disaster-affected women and girls are not forgotten. As part of its ongoing support, UNFPA is supporting watch groups and camp management committees tasked with preventing gender-based violence and assisting survivors.
Hardships continue
For many women and their families, the hardships are likely to continue until spring.
In Laxmipur, in Dang District, 30-year-old Hiramati Chaudhari told UNFPA that her family's grain supplies were destroyed in the flood. "My husband is away from home and I have to take care of everything, including nurturing my children."
The dignity kits, she said, "will help us keep the chill at bay and work in the fields during the winter to eke out a living." Even so, she noted, "I am worried that my children and I, myself, might not be able to battle the cold."