BETOU, Republic of the Congo – "Some months we have more than 145 births at the centre – a lot, considering that we only are six midwives working here," said Solange, a midwife at a medical centre in Betou, a village in north-eastern Republic of the Congo that is crowded with refugees from neighbouring countries.
Over 30,000 people from the Central African Republic have come to Betou in search of safe haven from their country's brutal conflict. Around 4,000 people from the Democratic Republic of the Congo have also sought refuge in the area, as have a cluster of people from Rwanda.
"It is important that we are able to keep up when it comes to medical resources here at the centre," Dr. Etienne Ngoyo told UNFPA during an interview late last year. He explained that the centre performs around 2,000 consultations and assists 100 to 120 births every month.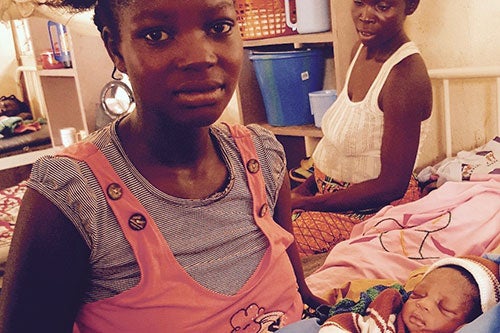 "This is my first child," said Gladys, a 16-year-old refugee from the Central African Republic. The delivery was supported by UNFPA midwives. Staff at the Betou medical centre say they see a large number of adolescent pregnancies. © UNFPA
From 2009 through 2016, UNFPA supported the centre with supplies and staff – including Solange. "Some days we have to work for more than 24 hours, which is not easy," she said as she prepared to help a woman through an induced labour.
"The long hours are so exhausting that, some days, I am asking myself if I am going to pull through," her colleague, Emile, added. "But then again, there is nothing better than to hold a newborn baby in your arms."
Girls highly vulnerable
The centre also addresses needs beyond maternal health. Many community members are struggling with poverty and the aftereffects of conflict.
Rape is a major problem, people told UNFPA, as is alcohol abuse. In 2014, UNFPA helped the centre bring in two psychologists to assist survivors of violence.
Medical centre staff also see a high number of adolescent pregnancies, affecting both the refugee and local populations.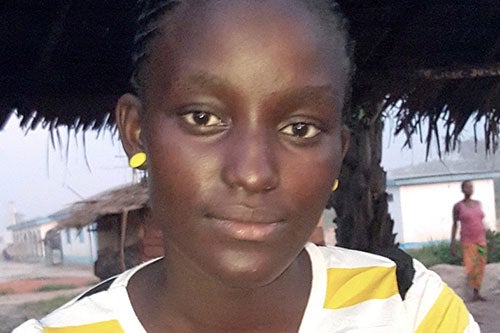 "The awareness-raising sessions on questions related to family planning are one of the only things I have to look forward to each week," Nozy, an 18-year-old refugee from the Central African Republic, told UNFPA. © UNFPA
"I have never seen such a thing elsewhere, with some of the girls giving birth already at the age of 12 – and often by Caesarean section," explained Dr. Ngoyo.
Pregnancy at such an early age can be dangerous. Globally, pregnancy-related complications are the leading killer of girls aged 15-19.
The early pregnancies are a sign of girls' extreme vulnerability, and an indication that people are resorting to poor coping mechanisms.
One woman, for example, told UNFPA that she married off her 14-year-old daughter to a 60-year-old man in the hopes that he would provide better care for her.
And some girls report entering into relationships at a young age in order to meet basic needs.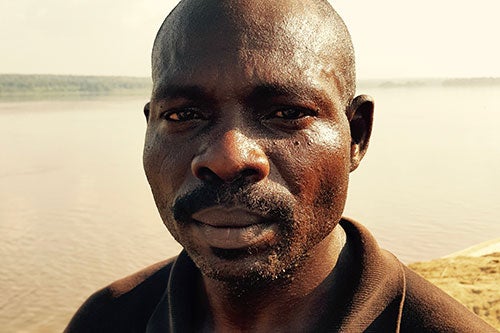 "Despite the focus on Syria and other conflicts I would like to tell the world not to forget about us, the refugees in Betou," Dominique, a refugee from the Central African Republic, said. © UNFPA
"United as one"
"It is common to meet young girls in the camp flirting with men in order to obtain some money," a girl from the Central African Republic told UNFPA.
"Unfortunately, that's how it works around here, and that way we are able to survive and take care of our daily needs, buying food or school material."
That girl was one of about 30 attending a weekly meeting held in the "15th of April" refugee camp. The majority were under 18, and five were already mothers. Four of them were pregnant.
Gladys, a UNFPA psychologist, organized the meetings to discuss sexual and reproductive health, girls' rights, and where to find health and protection services.
"The moment we step in to this tent, we become family," Gladys said at the beginning of the session. "In this tent it doesn't matter if you are from the Democratic Republic of the Congo, the Central African Republic or the Republic of Congo. Here we are united as one."
She helped the girls talk about their experiences. One said she probably would not have become a young mother if her parents had been present.
Another said she felt pressure to be in a relationship because she had so few material things in her life. "When you see that your girlfriends have boyfriends looking after them and giving them money and clothes, it's not easy to resist," she said.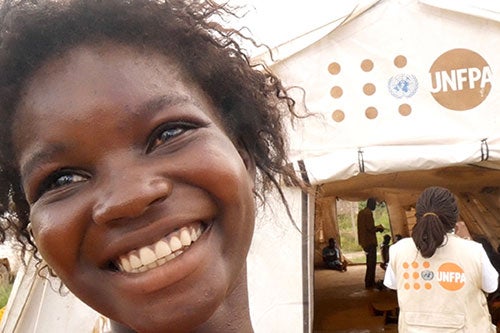 Gladys, 17, said UNFPA's programmes for girls "taught me to respect my body, and that is the message I would like to share with other young girls around me." © UNFPA
Thousands reached
Progress is slow, but some refugees say they are starting to have tentative hope about the future.
"I am trying to protect my girls the best I can," said Willy, a refugee from the Democratic Republic of the Congo. "I hope that they will be able to grow without any trouble."
Last year in Betou, UNFPA reached 3,650 women with antenatal care, supported over 1,250 safe childbirths, treated 485 people for sexually transmitted infections, and trained 18 health workers at the medical centre.
UNFPA also helped 94 survivors of gender-based violence and trained 25 health workers and 16 police officers in how to sensitively handle these cases. Nearly 14,700 people received information about sexual and reproductive health and human rights.
UNFPA's programmes in Betou ended in January 2017. But the needs of conflict-affected women and girls remain significant, experts say, and further efforts to support their health and rights must be prioritized.