UNITED NATIONS, New York—After strong statements and appeals by Thoraya Ahmed Obaid, the Executive Director of UNFPA — the United Nations Population Fund – and several others, the Security Council last week strongly condemned continued acts of gender-based violence and all violations of the human rights of women and girls during armed conflicts.
In a statement read by its President, the Council also condemned the use of sexual exploitation, violence and abuse, urging an immediate cessation of such acts by all parties. The need to end impunity for such acts was also stressed by the Council.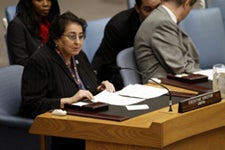 Reaffirming the important role of women in preventing conflict, the Council urged all relevant actors to collaborate, including through strengthened interaction with women's organizations, to ensure the full participation of women and the incorporation of a gender-perspective in all conflict prevention work. An increase in the representation of women in all aspects of conflict prevention, peacekeeping and peace-building operations and humanitarian response is urgently needed, the Council added.
" Increased political will is needed to ensure that women and girls receive real protection from sexual violence and abuse in their homes and communities, in camps for refugees and internally displaced persons. We need gender parity so that women in positions of power can stop abuses of power. "

--Ms. Thoraya Ahmed Obaid, Executive Director, UNFPA
Recognizing the vital contribution of women in promoting peace and reconstruction processes, the Council also requested the United Nations Secretary-General to mainstream a gender perspective in all post-conflict reconstruction programmes. The Secretary-General, it added, should ensure that all policies and programmes supporting post-conflict constitutional, judicial and legislative reform, including electoral processes, promote the full participation of women, gender equality and women's human rights.
Welcoming the United Nations system's efforts to implement strategies and programmes to prevent and report on gender-based violence, the Council asked the Secretary-General to ensure that human rights monitors and investigators have the necessary expertise and training in gender-based crimes and in conducting investigations, including in a culturally sensitive manner favourable to the needs, dignity and rights of the victims. All international and national courts specifically created to prosecute war-related crimes should provide gender expertise, gender training for all staff and gender-sensitive programmes for victims and witness protection, the Council urged. It also emphasized the urgent need for programmes to support survivors of gender-based violence.
The Council welcomed the efforts of the United Nations system, countries and civil society to promote women's equal participation in work to build peace and security. Member States, it added, should continue to collaborate with civil society, in particular local women's groups, to strengthen the implementation of Security Council resolution 1325 (2000) within countries.
-- Margaret Flanagan/Abubakar Dungus