TASHKENT, Uzbekistan – On his first-ever visit to Uzbekistan, UNFPA Executive Director Dr. Babatunde Osotimehin congratulated the Government and the people of Uzbekistan on achievements in moving the development agenda of their country forward.
"This is my first visit to Uzbekistan, and after having met the government bodies and talked to local people of Uzbekistan, I can say that I am very impressed by the achievements of both the government and the local people," said Dr. Osotimehin.
With a population of nearly 30 million people, Uzbekistan is the most populated country in Central Asia, with youth under the age of 24 accounting for nearly two thirds of its population. The country has been prioritizing youth-targeted development policies, and in recent years has adopted regulations promoting youth-friendly health services.
Advocating for youth-friendly services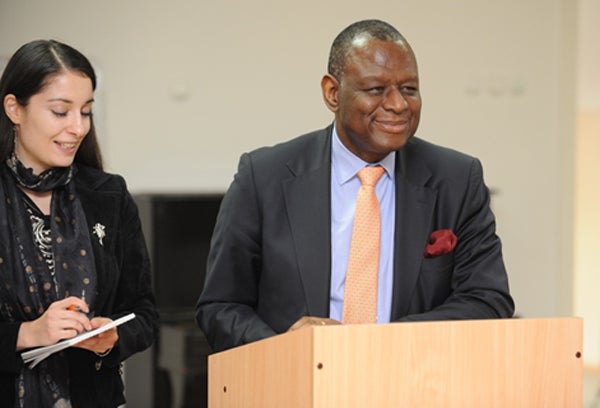 In several meetings the Executive Director encourage making youth-friendly services more accessible and addressing the sexual and reproductive health needs of young people. Photo: UNFPA Uzbekistan
But more remains to be done, and in meetings with the Deputy Prime Minister of Uzbekistan, Mr. Adham Ikramov, and the Chair of the Women's Committee, Deputy Prime Minister Ms. Elmira Basitkahnova, the Executive Director strongly advocated for greater efforts to make youth-friendly services more accessible and address the sexual and reproductive health needs of young people.
The importance of empowering and involving youth became very visible in the meetings with the local volunteers from Y-PEER, a comprehensive youth-to-youth initiative pioneered and supported by UNFPA. The Executive Director acknowledged the volunteerism shown by Y-PEER in Uzbekistan, saying that participating youth are key stakeholders in contributing to and achieving UNFPA's mission.
Y-PEER strives to promote the need of improving access to quality information and knowledge on sexual and reproductive health for adolescents and youth, and the Uzbekistan's Y-Peer network has been recognized for its dynamism.
Seeing UNFPA's work at women's health centre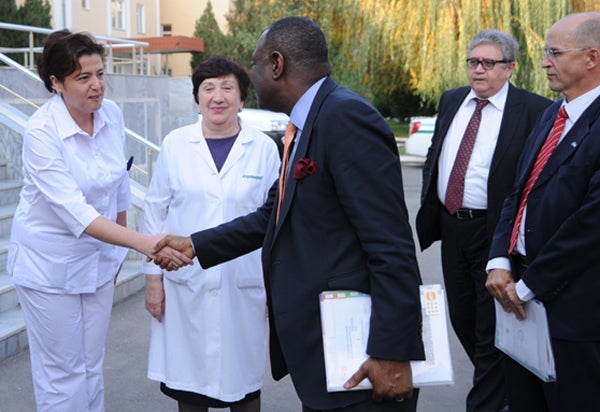 The Executive Director is welcomed by staff from the National Pertinatal Centre in the outskirts of Tashkent. Photo: UNFPA Uzbekistan
In the course of the visit the Executive Director also discussed the efforts of the Government and UNFPA to improve reproductive and maternal health in Uzbekistan. In a visit to the National Perinatal Centre in the outskirts of Tashkent, Dr. Osotimehin greeted newborns, spoke to mothers and staff, and saw how, with the support from UNFPA, the centre has implemented international standards on safe motherhood and neonatal care.