UNITED NATIONS, New York/GUATEMALA CITY, Guatemala – "We know that when we invest in young people, especially adolescent girls, we are making one of the smartest investments countries can make," UNFPA Executive Director Dr. Babatunde Osotimehin said at a high-level meeting on advancing rights of adolescent girls, held today at United Nations Headquarters in New York. "Guatemala is providing a unique example to follow," he noted.
In Guatemala, coordinated efforts between government ministries, partners and civil society are reducing adolescent pregnancies, improving access to health and education, and protecting girls from sexual abuse. Through an agreement signed today at the event, these efforts will serve as a model for other countries in the region.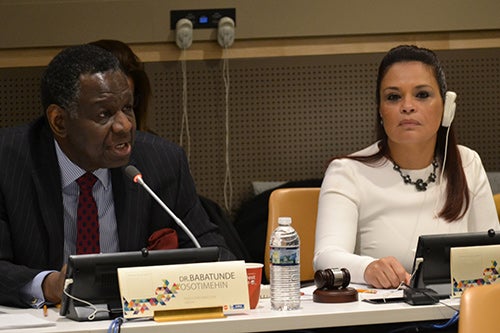 UNFPA Executive Director Dr. Babatunde Osotimehin and Vice President of Guatemala Roxana Baldetti Elías speak at a high-level meeting on investing in adolescent girls.© UNFPA/Koye Adeboye
The adolescent birth rate in Guatemala is high, with 92 births per every 1,000 girls aged 15 and 19. Adolescent pregnancy is closely linked to girls' vulnerability. Poverty, sexual violence, child marriage, gender inequality, and exclusion from education are all drivers of adolescent pregnancy.
And adolescent pregnancy also drives vulnerability: Complications of pregnancy and childbirth are a leading cause of death among adolescents, and girls who become pregnant are more likely to drop out of school, jeopardizing their future prospects.
"Adolescent pregnancies are not just a health issue, but a development issue," said Roxana Baldetti Elías, the Vice President of Guatemala.
But, she soon added, "the vicious circle has to become a virtuous circle at some point."
Laying the groundwork for change
Too often, girls who sought medical assistance after becoming pregnant or experiencing sexual violence were met with outrage and humiliation, the Vice President noted. "These cases have to be dealt with carefully and in a dignified manner."
New guidelines were created to provide sensitive care to pregnant girls and survivors of violence, she said. And to address the country's high rates of gender-based violence, "Guatemala implemented a law that treats adolescent pregnancies of girls under 14 years old as cases of rape."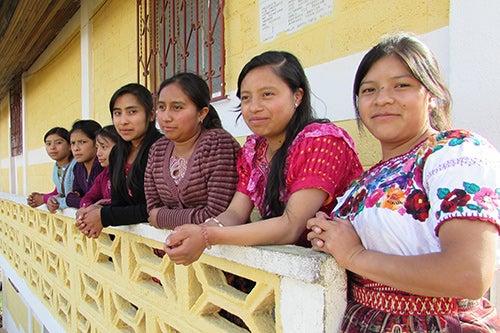 Girls participating in the UNFPA-supported Opening Opportunities programme in Xesacmalja, Guatemala. © UNFPA Guatemala
The government and its partners also began providing an integrated package of services to protect girls' health and rights. For example, the programme calls for pregnant girls to receive a full range of health services as well as assistance in continuing their educations. Cases of abuse are also reported for prosecution.
UNFPA is supporting many parts of this coordinated effort. UNFPA's Opening Opportunities programme, for example, brings safe spaces, life-skills training and other services to girls in rural and indigenous communities. UNFPA also supported the Government's new National Youth Policy, the establishment of a National Youth Cabinet, and the launch of PLANEA, a national plan on preventing adolescent pregnancy.
"We laid the groundwork and are seeing some results," said Vice President Baldetti.
Empowering young people
Young people can also play a key role in bringing about these positive changes – especially when they know their rights.
The National Youth Council and PLANEA are raising awareness of young people's rights to dignity, freedom from violence and reproductive health information.
Dispensing information about reproductive health can be controversial, acknowledged Siomara Elizabeth Morales, a 20-year-old member of the National Youth Council, in Guatemala City.  "Sometimes the community criticizes, but other times they say it is good to give education about PLANEA."
"It is our right to participate," said Siomara Elizabeth Morales, a young member of Guatemala's National Youth Council.
At her workshops for young people, "we also listen to the experiences that children and adolescents have lived through. In the activities, everyone can express, be informed and learn what to do in a risky situation."
The ultimate goal, Ms. Morales says, is for young people to be empowered to stand up for themselves and fulfil their potential. "It is our right to participate," she said.
When young people like Ms. Morales are empowered, a better future awaits us all, Dr. Osotimehin observed at the event in New York.
"Young people, particularly adolescent girls, can break away from cycle of poverty, strengthen the social fabric, and create a sustainable future," he said.