DIYALA, Iraq – More than three million people have been displaced by the violence engulfing Iraq. Amid the persistent insecurity, and the loss of lives, homes and jobs, Iraqi families are observing the holy month of Ramadan – many from tents or trailers, in unfamiliar surroundings.
At two UNFPA-supported women's centres in Diyala Governorate, displaced women requested an opportunity to gather for Iftar, a traditional evening meal to break the day's fast. The event, which brought together displaced families, members of the host community and local leaders, also provided an opportunity to share important human rights information, including messages about gender equality, delivered through the HeForShe campaign.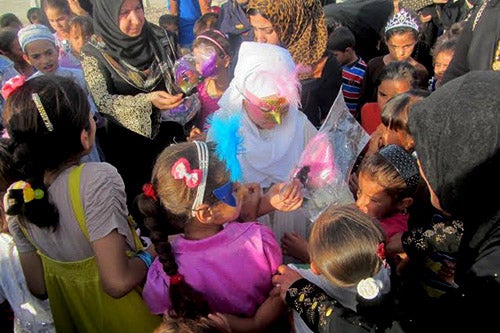 Entertainers perform for chidlren at Eman Al Qoulob Women's Center. © UNFPA/Eman Al Qoloub WCC /Rusul Abdul Kareem
Trust-building
The women's centres are both located in displacement camps, serving women and girls whose lives have been upended by the ongoing conflict. Eman Al Qoulob Women's Center, in the Saad Camp in Ba'quba, and Al Salam Women's Centre, in Al Wand Camp in Khanaqin, provide counselling, health care referrals, and recreational activities, as well as entrepreneurship training.
But unlike the serious activities normally found at the women's centres, the Ramadan event had a festival atmosphere. Organized by dozens of volunteers, staff and social workers, the meal gathered the women and their families not to mourn or commiserate but to celebrate together, as a community.
Etimad Rasheed, the manager of Eman Al Qoulob, said the effort was important for both the displaced families and the staff. "This activity is not only to feed them, but was rather a kind of trust-building," she said.
HeForShe
It was also a chance to share important messages about human rights and gender equality.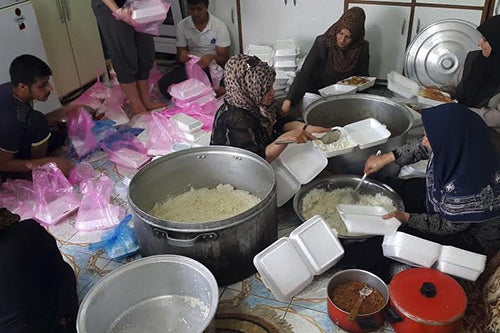 Volunteers prepare and package meals. © UNFPA/Eman Al Qoloub WCC /Rusul Abdul Kareem
Young women volunteers, who had been trained by UNFPA to act as peer educators, prepared a variety of information sessions for the event's guests. Topics included encouraging volunteerism, fostering good relationships between displaced families and host communities, responding to the needs of displaced persons, and avoiding violence and conflict.
A group of male and female volunteers also delivered HeForShe sessions on how men can serve as powerful allies in protecting women's rights and promoting their advancement. Displaced men from the camps, religious leaders and community leaders were all in attendance.
"We tried to use and involve males to be an active tool to protect women rights," said  Rusul Abdul Kareem, who led the volunteers at Eman Al Qoulob. The session, which included games and group discussions, aimed to "to orient them so that they, as family members, can preserve women's dignity and women rights, and to make them understand their role as powerful actors to reject violence."
"A bigger family"
Hundreds of families attended the celebrations, which also included games and entertainment for the children.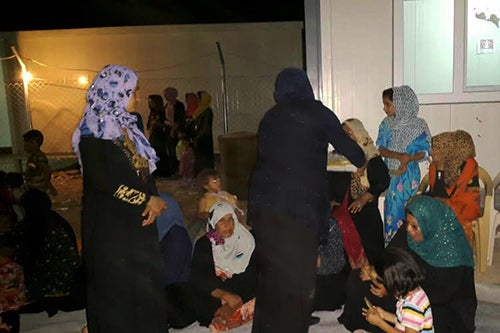 Eman Mahmood Hassan, manager of the Al Salam Women's Centre, distributes sweets. © UNFPA/Al Salam WCC/Maha Ahmed
For some, the festivities continued the next day. Al Salam Women's Centre served not only the evening Iftar meal but also the traditional Suhoor meal the following morning. These meals were accompanied with "poems, music and activities related to women's rights and peace building," said manager Eman Mahmood Hassan.
Many of the volunteers said they were pleased to be able to do something for their displaced neighbours and friends.
"Despite the high temperature in the camp, I am very happy to have the chance to cook for my displaced sisters," one woman said.  "I feel that I am hosting a bigger family."