OUAGADOUGOU, Burkina Faso – Aminata Kouanda, 20, arrived at the Koupela health post, in eastern Burkina Faso, suffering complications late in her pregnancy. She faced the risk of uterine rupture and required an emergency Caesarean section – a procedure that had long been unavailable in small clinics like the one in Koupela.
Fortunately, the team there was led by Dr. Madeleine Dabire, who had three years of experience handling emergency situations like the one facing Ms. Kouanda. Through a programme supported by UNFPA, the UN Population Fund, general practitioners like Dr. Dabire have been trained in basic surgical procedures, part of an effort to curb the country's alarmingly high maternal death rates.
The programme enables 'task shifting' – the movement of basic emergency procedures from specialists in large hospitals to the health facilities where most women seek care. This has brought access to Caesarean sections and other emergency obstetric and neonatal care (EmONC) to women in remote areas, where there are few surgeons or gynaecologists. Although most people in Burkina Faso live in rural areas, the vast majority of the country's gynaecologists – 83 per cent – are based in the two largest towns, Bobo-Dioulasso and the capital Ouagadougou, according to Ministry of Health figures.
When Ms. Kouanda arrived at the health post on 23 October 2013, Dr. Dabire's team quickly brought her to a surgical unit and performed a Caesarean section. Forty minutes later, the procedure was completed; both the mother and baby survived.
Keeping care local
The training programme has been in place for 22 years, supported by the country's technical and financial partners, including UNFPA. Doctors in the programme undergo a month of intensive study and a six-month internship in a regional or university teaching hospital. The course covers gynaecology, obstetrics, general and visceral surgeries, trauma and resuscitation, urology, and management of a surgical unit.
Between 1992 and 2013, some 279 practitioners were trained through the programme, according to the Ministry of Health. Forty-two of the practitioners are working in health centres equipped with surgical facilities.
In that time, maternal health has improved. In 1996, the country's maternal mortality ratio, the number of women who die from causes related to pregnancy or childbirth, was estimated to be 930 per 100,000 live births, according to that year's State of World Population report. The most recently available figures indicate this number is now 300  – still too high, but a vast improvement over the earlier rate.
The expanded EmONC services have helped save many of these lives.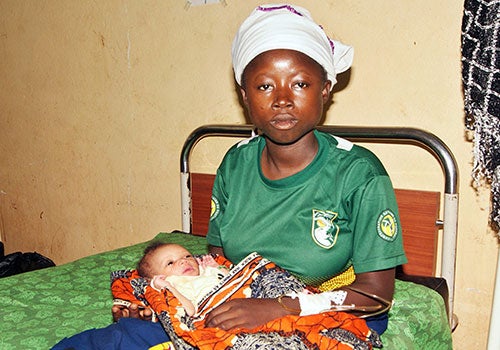 Salissa Tabsoba and her newborn recover from a Caesarean section in Kombissiri, Burkina Faso. Photo credit: APANEWS
"The number of maternal deaths has fallen by half between the advent of the EmONC project and now," said Dr. Bassirou Ouedraogo, from the country's Centre-Est Region. "It had dropped from 100,000 deaths to just 72 in 2012. We have reached a 76 per cent obstetrical coverage."
Dr. Romuald Sawadogo, Regional Health Director of the Centre-Est Region, said the scheme has reduced the time between the diagnosis of a major labour complication and the performance of the required surgery, improving patients' chances of survival. "We narrowly saved a woman suffering from an ectopic pregnancy in 2006," he said.
"If we had delayed for up to 45 minutes, she would have died. Her survival is due to the availability of the surgery equipment and the staff in place," he added.
Without the programme, some 40,000 patients would have required admission into Ouagadougou's health centre each year, Dr. Ouedraogo said.
CMAs save lives
UNFPA also provides medicines, equipment and other assistance to ensure task shifting can be implemented in local medical centres with surgical facilities, known as CMAs, for the French 'centres médicaux avec antennes chirurgicales'.
"I think the Caesareans performed in medical centres with surgery facilities have enabled many lives to be saved," said Dr. Djeneba Sanou, Director-General at the Ministry of Health. "In my own village near the border with Mali, we have recorded only two maternal deaths since the introduction of CMAs in Dande. After its six years in operation, I can say that the programme has given laudable results."
Fifty-four percent of the Caesareans carried out in 2011 were performed in the CMAs, and an estimated 80 per cent of those cases would have led to the deaths of the women in labour if the emergency surgery had not been available, said Dr. Sanou.
UNFPA Representative in Burkina Faso Dr. Mamadou Kante said that each year the agency provides between US$5 million and $7 million to further improve maternal health.
With reporting by APANEWS.