TEMPORARY APPOINTMENT: Roving Sexual and Reproductive Health in Emergencies Specialist, West and Central Africa Region, P-4
Contract Type: Temporary Appointment
Closing date: 28 November 2019 - 5:00pm(New York time)
Duty station: Dakar, Senegal
Job ID: 27165
---
Job Purpose:
The Roving SRH in Emergencies Specialist will act as a rapid response technical expert and  provide remote and in-person support in cases of urgent requests from country offices, including to provide immediate surge support before the deployments of surge personnel, in case is needed.
 The Regional Roving SRH in Emergencies Specialist (Roving Specialist) also acts as part of UNFPA's emergency response team and is expected to be deployed in the field for up to 70% of the time. She/He will be deployed either to support existing UNFPA country programs in their SRH emergency response, during preparedness phase for example or to help initiate new SRH in emergencies response (MISP) during the acute phase of emergencies or during protracted situations as well.
The Roving Specialist will also be responsible for supporting the transfer of knowledge to the country staff to ensure the sustainability of the interventions. Lastly, the Roving Specialist will support the regional office in all technical related to SRH in Emergencies programming, including the identification of technical aspects capacity gaps and of the strategies/modalities to respond to these gaps.     
It is important to note, that whilst the proposed incumbent will be recruited to support West and Central Africa Regional Office (WCARO), there may be occasional needs, based on an emerging situation, for the incumbent to support other regions than their designated region as well.
Qualifications and Experience
Education:
A medical doctor with sexual and reproductive health experience or qualifications such as Obstetrics and Gynecology or qualified nurse with a Master's in Public Health or equivalent degree.
Knowledge and Experience
Demonstrated understanding and experience in the humanitarian sector,  in particular, experience working closely with or coordinating national health clusters and associated partners and donors
At least five to seven years in implementing and managing sexual reproductive health programs (which includes the application of the MISP), family planning and adolescent reproductive health programs in emergency settings
Proven experience of using appropriate management tools to ensure effective running of the programmes, staff management and capacity development.
Experience in the elaboration of training and capacity building efforts in the area of sexual reproductive health.
Demonstrated experience with health systems such as HMIS, pharmacy management, disease surveillance.
Languages
Fluency in English and French required.
We are no longer accepting applications for this position.
Senegal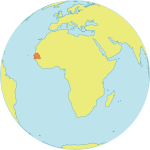 Population : 16.7 mil
Maternal Mortality Ratio
315
Contraceptives prevalence rate
26
Population aged 10-24
32%
Youth secondary school enrollment
Boys 35%
Girls 39%