TEMPORARY APPOINTMENT: Roving GBViE Specialist, West and Central Africa Region, P-3
Contract Type: Temporary Appointment
Closing date: 28 November 2019 - 5:00pm(New York time)
Duty station: Dakar, Senegal
Job ID: 27162
---
Job Purpose:
The Roving Gender-Based Violence in Emergencies (GBViE) Specialist will act as a rapid response technical GBViE expert to provide remote and in-person support in cases of urgent requests from country offices. The roving GBViE Specialist also acts as part of UNFPA's emergency response team and so  are expected to deploy in the field for up to 70% of the time and must be flexible to be able to deploy within 72 hours of notification during an emergency situation (and often prior to surge arriving on the ground). She/He will be deployed either to support existing UNFPA country programs in their GBV emergency response or to help initiate new GBV programs in crisis zones. The Roving GBViE Specialist will also be responsible for supporting the transfer of knowledge to the in-country staff to ensure the continuity of the interventions. Lastly, the roving GBViE Specialist will support the regional office in all technical aspects related to GBViE programming, including the identification of technical capacity gaps and of the strategies/modalities to respond to these gaps.
It is important to note, that whilst the proposed incumbent will be recruited to support ESARO, there may be occasional for need for the incumbent to support regions that fall outside of the auspices of their designated region.
Qualifications and Experience
Education
Advanced university degree or equivalent in gender studies, social anthropology, law and women's rights, sociology, public health or other related studies;
Knowledge and Experience
Minimum of five (5) recent years of humanitarian and GBV work experience carried out in the field, preferably on GBViE programming;
Demonstrated experience and technical proficiency in designing, adapting and delivering multiple types of trainings and capacity building interventions for a wide variety of practitioners in different contexts and with varying levels of capacity. Preference for those with specific experience in developing and delivering GBV-related trainings;
Experience in collection, management and analysis and familiarity with the safe and ethical principles of GBV information;
Good understanding of the survivor-centered approach;
Experience of working across multiple humanitarian sectors and proved knowledge of the humanitarian architecture and coordination mechanisms.
Ability to work with NGO, government and international organizations;
Excellent communication skills and demonstrated ability to work as part of a team, with team members based in other countries/organizations;
Excellent analytical, communication, writing and editorial skills in English and and French;
Willingness to travel in the neighboring countries (up to 70% of the time).
Languages
Fluency in French and English required.
We are no longer accepting applications for this position.
Senegal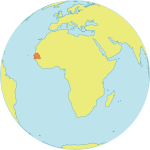 Population : 16.7 mil
Maternal Mortality Ratio
315
Contraceptives prevalence rate
26
Population aged 10-24
32%
Youth secondary school enrollment
Boys 35%
Girls 39%