Temporary Appointment- Programme Analyst, GBViE (GBV in Emergencies), Cox's Bazar, Bangladesh, P-2
Contract Type: Temporary Appointment
Closing date: 1 March 2021 - 5:00pm(New York time)
Duty station: Cox's Bazar
Job ID: 35393
---
Duration: 364 days (Temporary Appointment)
--------------------------------------------------------
The Position:
Programme Analyst-GBViE shall be based in Cox's Bazar, Bangladesh.  Under the overall guidance of UNFPA Representative, the incumbent will directly report to the UNFPA GBViE Specialist, Cox's Bazar.
How you can make a difference:
UNFPA is the lead UN agency for delivering a world where every pregnancy is wanted, every childbirth is safe and every young person's potential is fulfilled.  UNFPA's new strategic plan (2018-2021), focuses on three transformative results: to end preventable maternal deaths; end unmet need for family planning; and end gender-based violence and harmful practices. 
In a world where fundamental human rights are at risk, we need principled and ethical staff, who embody these international norms and standards, and who will defend them courageously and with full conviction.
UNFPA is seeking candidates that transform, inspire and deliver high impact and sustained results; we need staff who are transparent, exceptional in how they manage the resources entrusted to them and who commit to deliver excellence in programme results.
Job Purpose:
Bangladesh is ranked as the sixth in the World Risk Index (2015), indicating the country's extreme exposure and high vulnerability to natural hazards. In humanitarian settings, women and girls are disproportionately affected. In the 1991 cyclone in Bangladesh for instance, 90% of the deaths were among women. According to the 2015 Violence against Women (VAW) Survey conducted by the Bangladesh Bureau of Statistics, Bangladesh has an extremely high prevalence of VAW with 72.6% of married women experiencing some form of violence by their husbands. 49.6% experiencing physical violence and 27.3% sexual violence. This shows that women and girls are already at risk of GBV in normal times - emergencies make their vulnerability even higher, while a collection of data on GBV in humanitarian settings remains a challenge.  If law and order break down in an emergency, or social support and safety systems (such as extended family or community groups) fail, women and girls are also at greater risk of gender-based violence (GBV). Against this backdrop, the new 7th Five Year Plan of the government of Bangladesh mentions the vulnerability of Women as one of the priority areas in disaster management.
UNFPA is the lead agency for GBV in the UN Country Team in Bangladesh and the prevention and mitigation of GBV remain as one of the priority areas for UNFPA's current 9th Country Programme for Bangladesh (2017-2020).  Guided by the principles for the global Cluster Approach and drawing upon the previous natural disaster experiences in the country, UNFPA has established a "Gender-Based Violence (GBV) Cluster" under the national humanitarian architecture in Bangladesh, co-chaired by MoWCA and UNFPA in November 2016. UNFPA is also leading the GBV Sector under Inter-Sector Coordination Group (ISCG) since May 2017 in Cox's Bazar. The GBV Cluster at the national level and GBV Sub-sector in Cox's Bazar are now contributing to a more coherent, comprehensive and coordinated approach to GBV in humanitarian settings in the country, including risk mitigation and response services. UNFPA is currently the technical lead of Women Friendly Spaces ( WFS), Referral Pathway and Dignity Kits ( DK) apart from its regular prevention and response interventions. 
In August 2017, there was an influx of Rohingya refugees from Rakhine, Myamar into Cox Bazar district, Bangladesh. Currently, we have a total of 1.2 million affected persons (refugees and host communities). The speed and scale of the influx have resulted in a critical humanitarian emergency. The people who have arrived in Bangladesh since 25 August came with very few possessions. They have used most their savings on transportation and constructing a shelter, often out of no more than bamboo and thin plastic. They are now reliant on humanitarian assistance for food, and other life-saving needs. Basic services that were available prior to the influx are under severe strain due to the massive increase in people in the area. In some of the sites that have spontaneously emerged, water and sanitation facilities are limited or of poor quality, with extremely high density raising the risks of an outbreak of disease. The Rohingya population in Cox's Bazar is highly vulnerable, having fled conflict and experienced severe trauma, and now living in extremely difficult conditions. 
Requirements:
Qualifications and Experience
Education:  
• Advanced university degree (Master's degree) with a specialization in areas such as social work, public health, gender. Law/human rights, international relations, and/or other related social science disciplines
• Minimum 2 years of specialized experience addressing GBV and capacity development at the international level. 
• Experience in this field in a humanitarian context is desired.
• Experience in coordination and liaison with NGOs and communities.
• Excellent understanding of human rights-based and survivors-centered approach. 
• Proven relevant experience in developing training curriculums, modules, and materials on GBViE preparedness and response intervention including case management. 
• Knowledge and understanding of participatory approaches in the development of training modules.
• Practical experience in GBV case management and referral.
• Experience in developing SOPs, guidelines, tools for GBViE response and protection interventions.
• Direct experience providing support to GBV survivors an asset.
• The capability of delivering results on time, even under stress.
• Proven communications and inter-personal skills, IT literacy, as well as organizational skills and time-management.
• Good understanding of international GBV best practices and guidelines. 
• Experience of working at a global or regional level especially in developing countries.
Languages: 
Fluency in English; knowledge of other official UN languages an asset.
We are no longer accepting applications for this position.
Bangladesh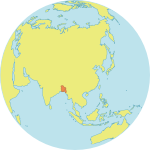 Population : 164.7 mil
Maternal Mortality Ratio
173
Contraceptives prevalence rate
54
Population aged 10-24
27.9%
Youth secondary school enrollment
Boys 61%
Girls 72%