Temporary Appointment: Plan to Report Business Analyst, Information Technology Solutions Office (ITSO), New York, P-3
Contract Type: Temporary Appointment
Closing date: 24 July 2019 - 5:00pm(New York time)
Duty station: New York, USA
Job ID: 24728
---
Please note that this is a Temporary Appointment.
Duration: 1 August 2019 - 31 March 2021
Position Summary:
UNFPA is implementing a new Enterprise Resources Planning (ERP) system that will fully support the needs of the Fund and enable the effective management of human, financial and physical resources through a cloud based digital platform.
The ERP implementation project has a defined 2-year implementation timeframe. The new system will cover the core business areas of finance, procurement, inventory management, grant management and human resources, and support the budgeting and programming processes.
To support the functional team, to ensure the tight delivery schedule is respected and the project objectives achieved UNFPA is seeking to hire an external specialist for the role of the ERP Business Analyst Plan to Report, reporting to the Functional Stream Lead.
The incumbent will work in the UNFPA Information Techonology Solutions Office (ITSO) and will be reporting to the plan to report functional stream lead (P-4).
Qualifications and Experience:
Education:
University degree in computer science, engineering, management of information systems, Business Administration or a related discipline covering your functional area; 
Knowledge and Experience:
PMP or equivalent project management professional certification will be an asset;
Business Analysis professional certification will be an asset;
At least 5 years of experience in Programme Management, Programme coordination, Monitoring of Evaluation or related activities;
Experience in process analysis, policy writing, organizational analysis
Deep knowledge and experience in Plan to Report business domain, including results based management (RBM), Monitoring and Evaluation, Implementing Partner management, Progress and donor reports
Work experience in the UN system will be an asset;
Language:
Fluent in English.
Other official UN languages an asset.
Other Desirable Skills:
Strong analytical skills to evaluate solutions and resolve issues.
Ability to make major decisions independently and work well with others.
Ability to work under pressure and prioritize tasks.
Required Competencies:
Proficiency in coordinating complex workplans and activities;
Ability to identify client needs and to provide solutions;
Ability to work under difficult conditions.
Mature judgment, initiative and resourcefulness; proven ability to ensure an effective work structure to maximize productivity and achieve goals;
Excellent interpersonal skills, including the ability to operate effectively across organizational boundaries; ability to establish and maintain effective teams and partnerships and working relationships in a multi-cultural environment with sensitivity and respect for diversity;
Excellent communication skills, including ability to present and defend difficult positions to senior officials.
We are no longer accepting applications for this position.
United States of America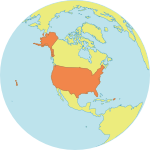 Population : 329.1 mil
Maternal Mortality Ratio
14
Contraceptives prevalence rate
74
Population aged 10-24
20%
Youth secondary school enrollment
Boys 92%
Girls 92%