TEMPORARY APPOINTMENT: Multilateral and Intergovernmental Affairs Specialist, IIPDB, PSD, New York
Contract Type: Temporary Appointment
Closing date: 27 May 2020 - 5:00pm(New York time)
Duty station: New York, USA
Job ID: 30641
---
Job Purpose
Under the overall guidance of the Chief, reporting to the Multilateral and Intergovernmental Affairs Coordinator within the Intergovernmental, Interagency and Policy Dialogue Branch,   Policy and Strategy Division (PSD), and working in close collaboration with the Interagency Affairs team and across PSD, Technical Division, Regional and Country teams, the Multilateral and Intergovernmental Affairs Specialist (MAIS)  advances UNFPA's strategic positioning efforts with multilateral and government partners and provides authoritative advice, substantiated by compelling, evidence-based political and programme analysis.
How You Can Make a Difference
UNFPA is the lead UN agency for delivering a world where every pregnancy is wanted, every childbirth is safe and every young's person potential is fulfilled. UNFPA's new strategic plan 2018- 2021, focuses on three transformative results: to end preventable maternal death; to end the unmet need for family planning; end gender-based violence and harmful practices.
In a world where fundamental human rights are at risk, we need principled and ethical staff, who embody these international norms and standards, and who will defend them courageously and with full conviction. UNFPA is seeking candidates that transform, inspire and deliver high impact and sustained results. We need staff who are transparent and exceptional in how they manage the resources entrusted to them and who commit to deliver excellence in programme results.
The Position
The Multilateral and Intergovernmental Affairs Specialist contributes to the IIPDB core functions with a focus on the following functions: 
Performs robust political analysis of multilateral and governmental key actors, their positions, priorities, and decisions, developing robust, real-time data that strengthens and informs the political positioning efforts of the ICPD agenda;
Builds and promote strategic collaborations with a network of technical counterparts across the IIPDB branch, PD, TD, regional and country managers and among government, counterparts to create evidenced-based data that supports strategic positions of UNFPA and guides field managers in their local political engagements;    
Creates a practical knowledge management, exchange and sharing that supports political policy dialogues at Headquarters and in the field;
Develops innovative analytics and client-oriented partnership engagements.
Qualifications and Experience
Education: 
Master's Degree or equivalent in Social Sciences, Diplomacy, Public Relations, Development Studies or Population and Development.
Knowledge and Experience:
7 years of relevant and increasingly responsible professional experience in development and multilateral affairs at the international level. Strong knowledge of human rights, global health and humanitarian affairs an asset;
Knowledge of the ICPD agenda and related intergovernmental processes and negotiations essential;
Strong interpersonal skills, strong public speaking skills; excellent speech writing and report writing skills;
Knowledge of the substantial content of the reproductive health and population and development programming is essential.
Languages:
Proficiency in English required. Knowledge of an additional UN language an asset.
We are no longer accepting applications for this position.
United States of America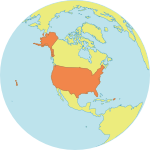 Population : 331 mil
Maternal Mortality Ratio
19
Contraceptives prevalence rate
64
Population aged 10-24
19.5%
Youth secondary school enrollment
Boys 92%
Girls 93%