Temporary Appointment (Fast Track)- Operations Specialist, Yangon, Myanmar, P-3
Contract Type: Temporary Appointment
Closing date: 8 April 2021 - 5:00pm(New York time)
Duty station: Yangon, Myanmar
Job ID: 36497
---
TEMPORARY APPOINTMENT
Duration: 364 days
Duty Station: Yangon, Myanmar
Closing Date: 8 April 2021 ( 5 pm New York time)
----------------------------------------------------
Background Information
Emergency preparedness and humanitarian assistance are integrated in UNFPA's work in Myanmar and are an important aspect in its fourth country programme (2018-2022).  The context for UNFPA's operations in Myanmar is characterized by complex layers of conflict, humanitarian settings, development deficits and human rights challenges. The UNFPA programme is delivered through its offices in Yangon, Nay Pyi Taw, Myitkyina (Kachin), Sittwe (Rakhine), Hpa-an (Kayin), Lashio (Northern Shan) and Taungyi (Southern Shan). 
The Position:
The Operations Specialist provides support to the country office operations related to administration, human resources, finance and procurement.  He/she backstops the International Operations Manager during his/her absence.
Under the guidance of the International Operations manager (IOM), the Operations Specialist works with the operations team, supervising as necessary, in all aspects of CO operations including, finance, administration, procurement, information technology, and human resources, contributing operational expertise to facilitate programme and project implementation liaising closely with the programme team. 
The Operations Specialist will report directly to the IOM. 
How you can make a difference:
UNFPA is the lead UN agency for delivering a world where every pregnancy is wanted, every childbirth is safe and every young person's potential is fulfilled.  UNFPA's new strategic plan (2018-2021), focuses on three transformative results: to end preventable maternal deaths; end unmet need for family planning; and end gender-based violence and harmful practices. 
In a world where fundamental human rights are at risk, we need principled and ethical staff, who embody these international norms and standards, and who will defend them courageously and with full conviction.
UNFPA is seeking candidates that transform, inspire and deliver high impact and sustained results; we need staff who are transparent, exceptional in how they manage the resources entrusted to them and who commit to deliver excellence in programme results.
Job Purpose:
Working within a large and complex Country Office (CO) environment, the Operations Specialist substantively contributes to the effective management of UNFPA operations for timely delivery of work, services and goods especially during COVID-19 and the current political instability in the country. 
The Operations Specialist (OS) contributes to overall CO operations support towards a well-managed and results-oriented Country Office (CO). The position will be expected to work closely with programme and project implementation teams with a view to meet their operations support needs, particularly in the area of procurement and HR in addition to administration, finance, IT and security.  The incumbent will also participate in inter-agency processes and will contribute towards strengthening a a collaborative, client-oriented approach towards the CO's programme team and UN community, supporting effective communication and cooperation with Headquarters (HQ) and Regional Office. 
Requirements:
Qualifications and Experience
Education:  
Advanced University degree (Master) in business administration, public administration, finance, human resources, information technology or other related discipline.
Knowledge and Experience: 
· Five years of progressively responsible professional experience in Operations including Procurement, HR processes, administration, finance, Information Technology, security  , especially in the humanitarian settings and/or in humanitarian-development nexus context.
· Experience of having led CO operations will be an advantage
· SURGE deployment background will be useful
· Strong analytical and leadership skills.
· Strong verbal and written communication skills.
· Proficiency in current office software applications and corporate IT systems.
· Strong UN/ BoS familiarity, including common office processes will be an advantage.
Languages: 
Fluency in English is required; Knowledge of another UN language is desirable.
We are no longer accepting applications for this position.
Myanmar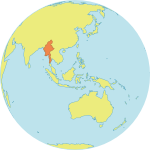 Population : 54.8 mil
Maternal Mortality Ratio
250
Contraceptives prevalence rate
33
Population aged 10-24
26.7%
Youth secondary school enrollment
Boys 79%
Girls 1.16%