Temporary Appointment - Chief Technical Adviser, Khartoum, Sudan
Contract Type: Temporary Appointment
Closing date: 4 August 2020 - 5:00pm(New York time)
Duty station: Khartoum, Sudan
Job ID: 31810
---
The Position:
The Chief Technical Adviser (CTA) post is located in Central Bureau of Statistics (CBS), Khartoum, Sudan, and is under the technical guidance of the Director General of Central Bureau of Statistics (CBS); and the direct supervision of the UNFPA Representative. CTA will work with the Census Coordinator and Census Technical Team based in CBS and also to liaise with other national and international stakeholders, donors, and development partners, including UN Agencies.
Organizational Context:
Sudan is embarking on the process of undertaking its Sixth National Population & Housing Census (PHC) which was shifted from 2018 to 2021. Since, independence in 1956, Sudan adopted the population census solution to avail timely, relevant, comprehensive and integrated data on the population for overall national development planning, and had conducted so far five formal population censuses; in 1956, 1973, 1983, 1993 and in 2008. 
The upcoming 6th Population and Housing Census is coming after major changes in the development landscape globally and at national level. The population census will provide direct or indirect data that measure and establish baseline indicators to monitor progress in implementation of the Sustainable Development Goals. 
The next Population & Housing Census - which will be combined for the first time with the Agricultural Census - will be conducted using Computer-assisted Personal Interviewing (CAPI) technique using tables for data collection.
The United Nations Population Fund (UNFPA) jointly with UN agencies and other Development Partners is supporting the Government of Sudan to plan and implement a high quality 6th PHC in accordance with scientifically established and internationally recognized standards and procedures. The new transitional government in Sudan is expected to demonstrate a high political as well as financial commitments to the population census, which will be combined with the Agricultural census for the first time. With support from UNFPA and Development Partners, a number of initiatives will be implemented to ensure a quality, participatory and inclusive census conduct.
How you can make a difference:
UNFPA is the lead UN agency for delivering a world where every pregnancy is wanted, every childbirth is safe and every young person's potential is fulfilled.  UNFPA's new strategic plan (2018-2021), focuses on three transformative results: to end preventable maternal deaths; end unmet need for family planning; and end gender-based violence and harmful practices. 
In a world where fundamental human rights are at risk, we need principled and ethical staff, who embody these international norms and standards, and who will defend them courageously and with full conviction.
UNFPA is seeking candidates that transform, inspire and deliver high impact and sustained results; we need staff who are transparent, exceptional in how they manage the resources entrusted to them and who commit to deliver excellence in programme results.
Job Purpose:
In line with UN/UNFPA policies and guidelines, and in full harmonization with internationally established standards and recommendations for census undertaking, the Chief Technical Adviser (CTA) will perform various tasks and provide vital technical inputs to all activities pertaining to census operations throughout all stages of the process. In addition, the incumbent will provide support in implementing and documenting activities aimed at increasing stakeholder participations throughout the census process.
Education:  
Advanced University degree in Demography, Statistics, Population Studies, Social Sciences, or other related subjects;
Knowledge and Experience: 
• At least 10 years of relevant, progressive experience in the field of population and housing censuses, particularly in a developing country
• Excellent experience in providing on-the-job training to local staff in data quality, analysis and report writing and use of Internet resources;
• Experience in the dissemination of census data and socio-demographic analyses to broad audiences, as well as in motivating the utilization of data and results in development; planning and policy issues
• Knowledge and experience with census data processing software (IMPS, CSPro, REDATAM, etc.), demographic data analysis (MORTPAK, FERTPAK, PAS), statistical packages (SPSS, STATA) and population projection programs (People, Spectrum, RUP);
• Communication skills especially for transfer of knowledge
• Extensive experience in Census analytical work, including drafting reports in appropriate language that can be understood by non-technical users;
• Knowledge and experience in the use of methods of estimation for statistically underdeveloped areas;
• Knowledge and experience in use of new technologies for data collection will be an asset
• Knowledge and experience in population and housing censuses preparation phases; 
Languages: 
Fluency in oral and written English essential; ability to communicate in Arabic an advantage
We are no longer accepting applications for this position.
the Sudan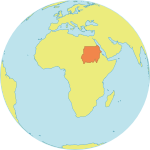 Population : 43.8 mil
Maternal Mortality Ratio
295
Contraceptives prevalence rate
10
Population aged 10-24
32.6%
Youth secondary school enrollment
Boys 32%
Girls 31%