Technical Specialist, Reproductive Health Commodity Security (RHCS), Antananarivo, Madagascar, P-4
Contract Type: Fixed Term Appointment
Closing date: 30 July 2020 - 5:00pm(New York time)
Duty station: Antananarivo, Madagascar
Job ID: 31643
---
Job Summary
The Reproductive Health Commodity Security (RHCS) Specialist plays a key role in ensuring the sustainability of national RHCS efforts to deliver quality reproductive health and family planning services, including uninterrupted supplies of products, with particular attention to reaching marginalized populations.
S/he will collaborate with national authorities, civil society organizations, private sector and development agencies to provide technical support in order to increase demand for informed and voluntary Family Planning products for women and men of reproductive age and to secure availability of Reproductive Health commodities. S/he will report to the Deputy Representative, who provides overall direction and supervision, and will work in close collaboration with the Easter and Southern Africa Regional Office (ESARO), the Commodity Security Branch (CSB), based on an approved annual work plan. As the Technical Specialist for the RHCS and health systems, s/he will work within an integrated, coordinated, and systems strengthening approach that is fundamental for UNFPA overall strategy. 
How you can make a difference:
UNFPA is the lead UN agency for delivering a world where every pregnancy is wanted, every childbirth is safe and every young person's potential is fulfilled.  UNFPA's new strategic plan (2018-2021), focuses on three transformative results: to end preventable maternal deaths; end unmet need for family planning; and end gender-based violence and harmful practices.
In a world where fundamental human rights are at risk, we need principled and ethical staff, who embody these international norms and standards, and who will defend them courageously and with full conviction.
UNFPA is seeking candidates that transform, inspire and deliver high impact and sustained results; we need staff who are transparent, exceptional in how they manage the resources entrusted to them and who commit to deliver excellence in program results.
Qualifications and Experience
Education:   
Master's degree in public health, medicine, social sciences, pharmacy or other related fields. Courses certificates in logistics, essential drugs, health system strengthening and financing would be an asset.
Knowledge and Experience: 
7 years' experience in increasing responsibilities at the national level in SRH ideally, in logistics systems, public sector pharmaceutical supplies management of which 5 years' experience should be in developing countries with direct experience relating to health and logistics systems and management of family planning programmes.
Knowledge of public sector pharmaceutical program management at national level, especially in policy & management, Selection, Access, Quality Assurance and Rational Drug Use is an asset.
Extensive knowledge of supply management: forecasting, warehousing, distribution, transportation, logistics information systems.
Health sector-specific experience, including: Experience with Public Health systems in developing countries, Health Commodity Supply Market, Logistics and inventory management related to pharmaceuticals and medical supplies, based on sound Supply Chain Management countries principles.
General knowledge of the principles and operational aspects of integrated reproductive healthcare.
Familiarity with UN development programmes and working procedures, especially UNFPA policies and programming procedures, would be an asset.
Proven experience in managing complex programs and large scale projects would be an asset;
Computer Literacy: Proficiency in the use of standard MS Office packages and the Internet.
Languages: 
Excellent written and oral communications skills. Fluency in French and English is required.
We are no longer accepting applications for this position.
Madagascar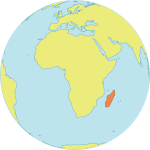 Population : 27.7 mil
Maternal Mortality Ratio
335
Contraceptives prevalence rate
40
Population aged 10-24
32.6%
Youth secondary school enrollment
Boys 29%
Girls 31%