Technical Specialist, Health Systems Strengthening, Dakar, WCARO, P-4
Contract Type: Fixed Term Appointment
Closing date: 26 February 2020 - 5:00pm(New York time)
Duty station: Dakar, Senegal
Job ID: 28413
---
The Position
The West and Central Africa region faces extreme pressure in producing the required number of key health cadres, utilizing them and managing them in such a way that they remain motivated to serve in their respective countries. There is a high turnover of skilled health personnel in the form of migration and brain drain. While it is acknowledged that most of the problems countries are facing have to do with limited resources, lack of efficient management systems poses another challenge. The purpose of the job is to assist countries in putting in place innovative approaches that would support the health system in its entirety paralyzed by acute migration and brain drain as well as inefficient health management system.
Organizational Setting
The position of Health Systems Strengthening Specialist is located in the Regional Office for West and Central Africa (WCARO) in Dakar (Senegal), which covers 23 English, French, Portuguese and Spanish speaking countries.  S/He reports directly to the Team Leader of the Women's Reproductive Health Advocacy and Policy Unit and under the overall leadership of the Deputy Regional Director who provides overall leadership, guidance and oversight. S/He is part of an inter-disciplinary team, which provides technical, policy, programme support and guidance to the regional programme and to countries in the West and Central Africa region in an integrated and coordinated manner under the coordination of the Unit Team Leader. In general, the position is expected to focus on engaging the political and technical arms of intergovernmental sub-regional and regional organizations, academic and research institutions, relevant NGOs, professional associations and international development agencies to integrate maternal health and family planning, ICPD and MDG issues into their policy focus, decisions and programmes, thus creating visibility for UNFPA.
Qualifications and Experience
Education:
Master's degree in public health or in health systems management/development, or equivalent.
Knowledge and Experience:
Seven years of increasingly responsible professional experience in health systems strengthening and health service staffing, of which three at the international level;
Substantive knowledge and practical experience in human resources for health planning and management;
Experience in planning and implementing capacity development staffing strategies and norms with particular reference to resource poor environments
Background in capacity development at human, institutional, and policy level, strategic planning and organizational processes;
Experience in programme and/or technical assistance with the UN System, an asset;
Ability to interact in different cultural and multi-professional academic and professional environments and to create good working relationships with peers and with academic and policy level managers;
Field experience is required.
Languages:
Fluency in French and advanced knowledge of English, with strong oral communication and writing skills.
We are no longer accepting applications for this position.
Senegal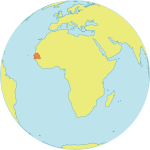 Population : 16.7 mil
Maternal Mortality Ratio
315
Contraceptives prevalence rate
26
Population aged 10-24
32%
Youth secondary school enrollment
Boys 35%
Girls 39%