Technical Specialist, FGM, WCARO, Dakar, P-3
Contract Type: Fixed Term Appointment
Closing date: 21 December 2018 - 5:00pm(New York time)
Duty station: Dakar
Job ID: 19401
---
The Position:
As an FGM Technical Specialist, you are responsible for supporting eight (8) West African countries for the planning, implementation, and monitoring of FGM related activities within the framework of the UNFPA­UNICEF Joint Programme on Female Genital Mutilation.
The main United Nations programme to eliminate female genital mutilation – UNFPA­UNICEF Joint Programme on Female Genital Mutilation: Accelerating Change – launched its third phase in 17 countries covering Africa and the Middle East. This phase started in January 2018 and will run until December 2021, in line with the strategic plans of both agencies.
The joint programme aims to build on the successes of past experiences undertaken at the regional and country levels to generate additional understanding on the abandonment of the practice and to coordinate and provide support to country offices to enhance UNFPA response to the needs of National programmes.
The Technical Specialist FGM works in collaboration with staff at the regional, headquarter and country levels. This joint programme requires close linkage with UNICEF and other external partners, vendors, and implementing partners.
You will work in the Adolescent and Youth Advocacy Unit of the UNFPA West & Central Africa regional office, and will report directly to the unit's lead under the overall guidance and leadership of the Regional Director and Deputy Regional Director.
How you can make a difference:
The Technical Specialist FGM is expected to provide the regional office's technical contribution to the joint programme, and help meeting UNFPA's engagements for the elimination of FGM and other harmful practices. UNFPA and UNICEF continue their joint effort, integrating complementary interventions even more systematically under this new phase of the Joint Programme. Their action builds on valuable lessons learned and is directly linked to the Sustainable Development Goal 5.3, which aims to end all harmful practices by 2030. Thus, the focus continues to be on countries with highest FGM prevalence, with the aim of shifting social norms in affected communities while working with governments to put in place viable national response systems.
Targets for Phase III of the joint programme include:
8 million girls and women will receive appropriate FGM-related services
19 million people in over 10,000 communities will publicly declare abandonment of FGM
17 countries, , including 8 in West Africa, will have a national budget line and monitoring mechanism
Regional and sub-regional political organizations will be mobilized to enhance national efforts
The availability of a global online knowledge hub
Job Purpose:
As a Technical Specialist FGM, you will contribute to:
Provision of appropriate and quality services: More than 3.2 million girls and women in the 17 countries supported by the Joint Programme have benefited from FGM-related protection and care services.
Increased community-led engagement: As a result of community-led engagement through education, dialogue and consensus-building, more than 31.5 million individuals in over 21,700 communities have made public declarations on the abandonment of FGM.
Legal and policy frameworks: 13 countries supported by the UNFPA-UNICEF Joint Programme have legal and policy frameworks banning FGM. Following intensive capacity development initiatives, to date, there have been more than 900 cases of legal enforcement. Public statements at all levels have announced that FGM is a human right issue and must be stopped. Such statements provide the political backing required to strengthen the community-wide efforts and initiatives. 
Government ownership: All 17 countries supported by the UNFPA-UNICEF Joint programme have a national coordination mechanism in place to systematically engage all actors at the national level. Twelve countries established a national budget line funding services and programmes to specifically address FGM.
Qualifications and Experience
Post­graduate university degree or equivalent in public health, social science, demography or statistics. The graduate or post graduate degree should include credits in the principles and practice of monitoring and evaluation;
Five (5) years of increasingly responsible professional experience in public health, international development or social sciences;
Proven ability to produce demonstrable results;
Strong verbal and written communications skills;
Field experience is a strong asset;
Fluency in English and French is mandatory; knowledge of other languages, preferably Portuguese, is desirable.
We are no longer accepting applications for this position.
Senegal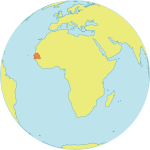 Population : 16.7 mil
Maternal Mortality Ratio
315
Contraceptives prevalence rate
26
Population aged 10-24
32%
Youth secondary school enrollment
Boys 35%
Girls 39%