Technical Adviser, Programme Operations, Technical Division
Contract Type: Fixed Term Appointment
Closing date: 15 June 2020 - 5:00pm(New York time)
Duty station: New York, USA
Job ID: 30716
---
The position of the Technical Adviser, Programme Operations sits in the Commodity Security Branch. S/he reports to the Global Operations Coordinator and works under the overall direction and leadership of the Chief, CSB. 
Job Purpose
UNFPA Supplies – a multilateral, multi-donor, UNFPA-managed thematic trust fund –is the world's largest provider of donated contraceptives.  The programme provides over 40 percent of all contraceptives donated to developing countries and helps strengthen health systems to deliver them.  Since its inception in 2007, the programme has mobilized over US$1 billion to support national action to expand access to family planning for millions of the world's poorest women and girls. UNFPA Supplies is uniquely positioned to support countries in their efforts to ensure universal health coverage (UHC), helping to build stronger, integrated health systems that will ensure access to and use of rights-based family planning services, contraceptives, and maternal health medicines. 
UNFPA Supplies was established as a UNFPA trust fund under the authority of Article V ("Trust Funds") of the UNFPA Financial Regulations.  UNFPA is a subsidiary organ of the United Nations overseen by the UNDP/UNFPA/UNOPS Executive Board. UNFPA is mandated to work on sexual and reproductive health and family planning and has been providing development and humanitarian assistance to developing countries in these areas since 1969. UNFPA Supplies adheres to the tenants of the UN Charter, UNFPA financial regulations and UN staff regulations with oversight from the programme's Steering Committee and subsidiary sub-committee structure.
UNFPA Supplies is governed through a tiered committee structure made up of key programme stakeholders and donors that provides strategic direction and management oversight. A Steering Committee approves programme strategy and key documents based on recommendations from three targeted sub-committees with deeper engagement and subject-matter expertise on finance & risk, strategy & planning, and human resources. Broader stakeholder input and engagement is achieved through annual Partner Assembly meetings. 
Education:  
Advanced University Degree in Business Administration, Management, Logistics Management, Social Sciences, or other field directly related to the substantive area of work. 
Knowledge and Experience: 
● Ten years of increasingly responsible professional experience in the substantive technical  area ideally with direct experience relating to programme management and operations, seven years of which at the international level;
● Extensive knowledge of programme operations management, budgeting, financial management and risk management
● General knowledge of the principles and operational aspects of integrated reproductive health care
● Proven ability to produce demonstrable results;
● Extensive network within the development community;
● Demonstrated leadership in the area of RHCS
Languages:
Fluency in English is required. Working knowledge of another official UN language is desirable.
We are no longer accepting applications for this position.
United States of America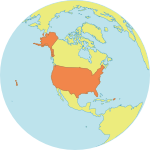 Population : 331 mil
Maternal Mortality Ratio
19
Contraceptives prevalence rate
64
Population aged 10-24
19.5%
Youth secondary school enrollment
Boys 92%
Girls 93%