Technical Adviser, Lead of the Secretariat for the GRID Project, Technical Division
Contract Type: Fixed Term Appointment
Closing date: 5 March 2018 - 5:00pm(New York time)
Duty station: New York, USA
Job ID: 14403
---
Job Summary
The Technical Adviser / Lead of the Secretariat for the GRID Project post is located in the Population and Development Branch of the Technical Division, and reports directly to the Branch Chief who provides overall strategic direction.
S/He will lead the office of the Secretariat for the GRID project within UNFPA, serving as the technical adviser and assuming supervisory and management responsibilities for the overall project mission and deliverables, which include 1) building national capacity for the production and use of geo-referenced census data matched to digital enumeration area boundaries and extracting geospatial reference layers from the census data and 2) estimating national and sub-national population in highly stressed countries, fragile countries, and countries without recent census data, and (3) supporting partners in collection and use of geospatial reference data.
The Technical Adviser / Lead of the Secretariat will manage the GRID project in a manner that is consistent with the mission of the Technical Division for the Fund, which is to set norms and standards for all related UNFPA field operations, provide ongoing technical and strategic advice to government partners, and operate within an integrated, coordinated, and systems strengthening approach. 
Job Purpose
The Technical Adviser / Lead of the Secretariat will oversee the development and roll-out of the project operational plan for "Estimating, Generating and Using Population Data for Development", including recruitment and deployment of the Surge Roster personnel.
The role of the Technical Adviser / Lead of the Secretariat will be to ensure the smooth functioning and implementation of the Secretariat and the surge roster as well as effective coordination of staffing for a project that requires unique relationships with each government, and builds on very different levels of census, GIS and overall population data capacity and national buy-in among governments, and may operate through a different constellation of partners in each country. 
In all activities, s/he fosters collaboration within TD, with the Programme Division, including Humanitarian Response, with Regional Offices, and with the UNFPA technical network, ensuring the timeliness, adequacy, relevance and quality of substantive outputs.
Education:   
Masters Degree or equivalent (preferably Ph. D.) in demography, statistics, population studies, geography, social sciences, or another field directly related to the substantive area of the post.
Knowledge and Experience:
●       10 years of increasingly responsible professional managerial experience in population and development, of which five years must be at the international level, with substantial experience in developing countries;
●       An acknowledged expert in population analysis, with proven expertise in the use of census, civil registration, population-based surveys, and geo-spatial information;
●       Thought leader in the use of geographic information systems (GIS) in the field of population and development; applications in the fields relevant to UNFPA mandate, such as sexual and reproductive health, gender equality and family planning an asset; 
●       Familiarity with new trends in population data collection and analysis, such as increasing expansion of geospatial data, administrative censuses, internet data mining and information integration;
●       Familiarity with statistics and small area estimation methods;
●       Familiarity with ethical issues, concerns and needed protections in the field of population data;
●       Strong track record of technical leadership and proven ability to produce demonstrable results;
●       Experience in administrative processes such as budget control, oversight, work planning, use of procurement services, etc.
●       Extensive network within the academic and development community;
●       Familiarity with ICT/ERP is an asset.
We are no longer accepting applications for this position.
United States of America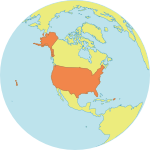 Population : 326.8 mil
Maternal Mortality Ratio
14
Contraceptives prevalence rate
74
Population aged 10-24
20%
Youth secondary school enrollment
Boys 90%
Girls 92%