Technical Adviser, Gender, Equality and Women's Empowerment, Technical Division, New York
Contract Type: Fixed Term Appointment
Closing date: 3 January 2019 - 5:00pm(New York time)
Duty station: New York, New York
Job ID: 19791
---
Job summary
The Technical Adviser post is located in the Gender, Human Rights and Culture Branch of the Technical Division, and reports directly to the Branch Chief who provides overall strategic direction. S/He is the principle technical adviser and authoritative expert in the Fund for the area of Gender Equality and Women's Empowerment and its linkages with the ICPD Programme of Action, the 2030 Agenda for Sustainable Development, and the UN Reform agenda. The Technical Adviser works in an integrated, coordinated, and systems strengthening approach which is fundamental to the Division's and UNFPA's overall strategy.
Education:
Post-graduate University Degree or equivalent in gender studies, international development/relations, social anthropology, law and women's rights, sociology, cultural studies, public health, demography, socio-economics, or other field directly related to the substantive area identified in the title of the post.     
Knowledge and Experience: 
• 10 years of increasingly responsible professional experience in the area of gender equality and women's empowerment, of which at least seven years at the international level;
• Knowledge and experience on gender and development 
• An acknowledged expert and recognized authority in the technical area;
• Understanding of human rights dimensions of gender, including promoting rights of marginalized groups, essential
• Broad experience in gender programming, essential
• Experience in culturally sensitive programming is essential
• Experience in advising and supporting initiatives to eliminate GBV, essential
• Experience working on linkages between gender equality and sexual and reproductive health and rights desirable
• Gender budgeting understanding/experience an asset
• Knowledge and experience of working with civil society in support of gender equality and women's empowerment, an asset
• Knowledge and experience of working in areas related to harmful practices, an asset
• Strong track record of technical leadership, publications, and proven ability to produce demonstrable results;
• Extensive network within development community;
• Field experience desirable
• Experience working for the UN preferred
We are no longer accepting applications for this position.
United States of America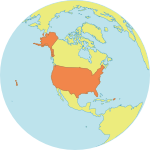 Population : 329.1 mil
Maternal Mortality Ratio
14
Contraceptives prevalence rate
74
Population aged 10-24
20%
Youth secondary school enrollment
Boys 92%
Girls 92%