SURGE CAPACITY ROSTER: Operations Manager
Contract Type: Consultancy
Closing date: 1 July 2019 - 5:00pm(New York time)
Duty station: Multiple Locations
Job ID: 23847
---
This is an internal vacancy open to UNFPA staff members only
UNFPA's Global Emergency (Surge) Roster contains the various profiles of personnel needed in emergency and humanitarian situations.  In the event of an emergency or humanitarian crisis, candidates who are on the Roster will be deployed to the affected country (or countries) within 48-72 hours.  Candidates selected for the Surge Roster will be invited to attend a workshop and simulation exercise and will be given access to training to augment the effectiveness of the Surge team members.
The incumbent serves as a member of the Country Office Management Team, and provides operational support to the Country Office, contributes to the delivery of the humanitarian/emergency efforts to the affected population, and ensures that operations are carried out, effectively, efficiently, in a timely and transparent manner, mindful of subsequent audit considerations.
Required Qualifications and Experience
Advanced technical degree in finance and public /business administration, public policy or other relevant social   sciences.  A first university degree, with relevant experience may be considered in lieu of an advanced degree;
5 to 7 years of operations management experience;
Experience in challenging and complex humanitarian/emergency setting;
Fluency in English (Depending on the duty station, another UN language such as French, Spanish, Arabic, Chinese or Russian may be required).
Closing date: 1 July 2019
We are no longer accepting applications for this position.
United States of America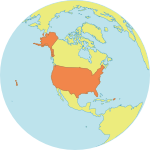 Population : 329.1 mil
Maternal Mortality Ratio
14
Contraceptives prevalence rate
74
Population aged 10-24
20%
Youth secondary school enrollment
Boys 92%
Girls 92%