SURGE CAPACITY ROSTER - Humanitarian Coordinator
Contract Type: Consultancy
Closing date: 12 August 2018 - 5:00pm(New York time)
Duty station: Multiple Locations
Job ID: 17687
---
Background Information
The purpose of the UNFPA's Global Emergency (Surge) Roster contains the various profiles of staff members needed in emergency and humanitarian situations.   In the event of an onset of an emergency or humanitarian crisis, staff members who are on the Roster will be deployed to the affected country (or countries) within 48 - 72 hours.  Staff members selected for the Surge Roster will be invited to attend a workshop and simulation exercise and will be given access to training to augment the effectiveness of the Surge team members.
Qualifications and Experience
Advanced degree in Humanitarian Assistance, Public Health, Social Sciences, Demography, Gender and/or other related fields;
At least 5 years of relevant experience preferably in humanitarian affairs, emergency relief management, public health or other related areas, prior experience in region an asset;
Experience in design, monitoring and evaluation of development projects, humanitarian programming and coordination;
Proven management, coordination and of programme development skills;
Analytical and strategic thinking, results oriented, commitment to excellence and able to work efficiently under high pressure;
Track record of building strategic alliances and partnerships, strong communication and networking skills; strong organizational skills;
Appropriate and transparent decision making abilities;
 Knowledge and understanding of UN humanitarian relief operations and procedures;
 Good level of emotional intelligence, empathy and conflict management as well as negotiating skills;
Fluency in French is required; proficiency English is an asset;
Prior UNFPA surge deployments undertaken, is an asset;
Experience responding to emergencies in francophone Africa and Haiti is desirable;
Have experience in the UN system is an asset.
We are no longer accepting applications for this position.
United States of America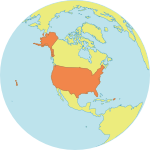 Population : 329.1 mil
Maternal Mortality Ratio
14
Contraceptives prevalence rate
74
Population aged 10-24
20%
Youth secondary school enrollment
Boys 92%
Girls 92%