Strategic Policy Specialist, Office of the Executive Director, New York, P-4
Contract Type: Fixed Term Appointment
Closing date: 12 December 2019 - 5:00pm(New York time)
Duty station: New York
Job ID: 27402
---
The Position:
The Strategic Policy Specialist post is located in the Office of the Executive Director. The incumbent reports directly to Chief of Staff. 
How you can make a difference:
UNFPA is the lead UN agency for delivering a world where every pregnancy is wanted, every childbirth is safe and every young person's potential is fulfilled.  UNFPA's new strategic plan (2018-2021), focuses on three transformative results: to end unmet need for family planning;  end preventable maternal deaths; and end gender-based violence and harmful practices. 
In a world where fundamental human rights are at risk, we need principled and ethical staff, who embody these international norms and standards, and who will defend them courageously and with full conviction.
UNFPA is seeking candidates that transform, inspire and deliver high impact and sustained results; we need staff who are transparent, exceptional in how they manage the resources entrusted to them and who commit to deliver excellence in programme results.
Job Purpose:
It is critical that the Office of the Executive Director (OED) coordinates delivery in a strategic and proactive manner and, forges new and strengthens current partnerships within and outside the UN System and other key partners in order to advance UNFPA's mandate. The various current and emerging engagements must be coordinated, operationalized and reinforced in a cohesive way and monitored for impact. An emphasis on the strategic, quality and timely coordination and delivery of results will ensure that UNFPA is a credible partner that can bring concrete changes in the lives of women, adolescents and youth. The Strategic Policy Specialist within the OED will contribute to the Mandate of UNFPA by providing substantive and strategic support to the office of the Chief of Staff within the OED in the overall execution of his/her duties, including other front office and business units that fall under his/her purview. 
Requirements:
Qualifications and Experience
Education:  
• Advanced university degree in international relations, international development, public administration, business, management or other related field.  
Knowledge and Experience: 
• 7 years of progressively responsible relevant experience, particularly in strategic partnership, advocacy and communication, of which at least five years at the international level.
• Comfortable working with ambiguity; can decide and act without having the total picture; can comfortably handle risk and uncertainty.
• Excellent organizational, analytical, written and communications skills.
• Demonstrated success in developing and or building effective partnerships for development. 
• Demonstrated ability to anticipate impact of change, and to direct self and others
• Self-directed, able to maintain productivity when implementing new, altered or incomplete procedures
Languages: 
■ Fluency in English is required; knowledge of a second UN language is highly desirable;
We are no longer accepting applications for this position.
United States of America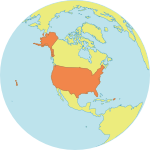 Population : 331 mil
Maternal Mortality Ratio
19
Contraceptives prevalence rate
64
Population aged 10-24
19.5%
Youth secondary school enrollment
Boys 92%
Girls 93%