SERVICE CONTRACT: GBV IMS Coordinator, Dhaka, Bangladesh, SB4
Contract Type: Service Contract
Closing date: 19 July 2018 - 5:00pm(Dhaka time)
Duty station: Dhaka, Bangladesh
Job ID: 17242
---
PLEASE NOTE THAT THIS VACANCY IS OPEN ONLY TO NATIONALS OF BANGLADESH
Position summary:
The National GBV IMS Coordinator will in coordination with the GBV Sub-Cluster and the GBV IM Specialist facilitate the implementation of the GBVIMS and potentially the GBVIMS+ in Bangladesh, supporting the organizations and agencies using the GBVIMS/GBVIMS+ for data collection through their service provision to GBV survivors. = The GBV IMS Coordinator will be responsible for providing on-going technical support to organizations using the GBVIMS/GBVIMS+ in order to improve and expand the use of the GBVIMS/GBVIMS+ if need be. The GBV IMS Coordinator should work closely and in collaboration with GBVIMS/GBVIMS+ organizations, and relevant stakeholders.
Requirements:
Qualifications and Experience
Advanced Mater degree required in public health, social work, humanitarian or development work, or other related degree, or equivalent programming experience;
Minimum 5-6 years monitoring and evaluation, information/data management, statistics or other relevant experience
At least 2-5 years working in a GBV program in a humanitarian context preferred
Experience developing and facilitating workshops;
Experience in information management, database usage and management preferred;
Demonstrated capacity to analyse data/statistics for humanitarian operations;
Excellent Computer skills: MS Word, Excel, Access and database software, including in depth knowledge of pivot table/chart analysis;
Demonstrated organizational skills: the ability to work independently and productively, with multiple stakeholders in a fast-paced environment;
Flexible work attitude: the ability to work productively in a team environment and independently, and to handle requests or issues as they arise;
Demonstrated understanding of issues related to confidentiality, data safety and other ethical concerns related to the sharing on sensitive data between humanitarian agencies;
Excellent interpersonal and communication skills: the ability to successfully and effectively liaise with people in a wide range of functions in a multi-cultural environment.
Fluency in English and Bengali strongly preferred
We are no longer accepting applications for this position.
Bangladesh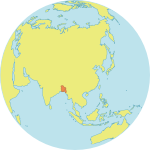 Population : 166.4 mil
Maternal Mortality Ratio
176
Contraceptives prevalence rate
64
Population aged 10-24
29%
Youth secondary school enrollment
Boys 60%
Girls 67%