Service Contract - Charge de Projet départemental en Santé sexuelle et Reproductive, Port au Prince, Haiti, SB4
Contract Type: Service Contract
Closing date: 28 December 2018 - 5:00pm(Port-au-Prince time)
Duty station: Port au Prince, Haiti
Job ID: 19744
---
Contexte
 Le sixième Programme de coopération entre le Gouvernement de HAITI et le Fonds des Nations Unies pour la Population-UNFPA, couvre la période 2017-2021. Le but dudit Programme est de contribuer aux efforts du Gouvernement visant à réduire la pauvreté en vue d'améliorer de façon équitable les conditions de vie des populations. Avec l'appui du Gouvernement du Canada, UNFPA bénéficie d'un financement d'un projet conjoint visant à « renforcer le système de santé pour les adolescentes et les femmes ».  Dans le cadre de la coordination, de la mise en œuvre et du suivi du projet, l'UNFPA recrute un(e) Un /Une Charge de Projet départemental en Santé sexuelle et Reproductive.
Conditions Scolaires/Académiques:
Un Diplôme supérieur (Bac+3) ou équivalent en Santé Publique avec des connaissances approfondies en santé de la reproduction, en violences basées sur le genre et autres sciences sociales pertinentes.
Expérience professionnelle:
2 ans d'expérience professionnelle dans la gestion des programmes/projets dans le secteur public ou privé et une connaissance approfondie du système de santé national. Avoir travailler dans l'administration publique dans le secteur de la santé est un avantage.
Langues:
Maîtrise du Français et de l'Anglais à l'écrit comme à l'oral ainsi qu'une maîtrise du créole oral.
Connaissances informatiques:
Maîtrise des applications logicielles MS Office (MS Word, Excel, Powerpoint, et Outlook).
Compétences dans les applications courantes de logiciel de bureau et de support technique (IT)
To view the complete job description and apply to this position, click "Apply Now" below.
Haiti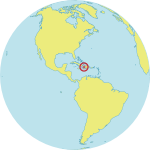 Population : 11.1 mil
Maternal Mortality Ratio
359
Contraceptives prevalence rate
36
Population aged 10-24
30%